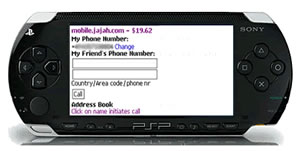 Sony and BT have just signed a four year deal to extend the function of the Sony PSP to have it act as a Wi-Fi video and voice 'softphone'.
We've been digging a bit as the initial information offered by BT was sketchy to say the least.

By adding a headset with mic to your Sony PSP, you'll be able to make calls on your own home Wi-Fi network using thin client software that BT has developed themselves at their Adastral Park (Martlesham as was).
The initial offering will be to "integrate PSP with the BT Broadband video and voice 'softphone' products already available in the market today." They say that "in the following months, additional features will be launched to enable calls and messages to PCs, fixed lines and mobiles."
BT tell us that initially BT OpenZone will be the only public Wi-Fi provider offering the service, but are in discussions with "a major Wi-Fi provider", which they wouldn't name, to provide a White-label service.
At the time of going to press BT couldn't tell us when the service would be actually available to the UK public.
Haven't we heard of this before?
Rumours of this type of thing have been circling for ages (way back in 2005) about VoIP-enabling the PSP. More recently VoIP provider JAJAH started offering this back at the start of April this year.
There's even a truly dreadful video of the process of making a call
What is unclear is if PSP owners will go the BT-on-PSP route, if they can run services like JAJAH on it now and not have the restrictions of being limited to BT.