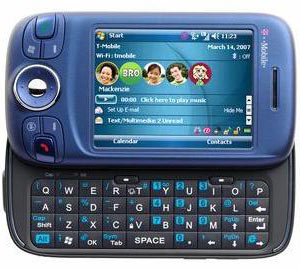 T-Mobile USA has launched the Wing QWERTY Smartphone to replace their popular MDA Pocket PC smartphone.
Built by mobile maestros HTC, the new T-Mobile Wing comes stuffed full with the latest technology, offering quad-band GSM/EDGE support, 802.11g Wi-Fi, a 2.8″ touch screen display and a slide-out, 40-key QWERTY keyboard.

Purring along on the new Windows Mobile 6 Professional operating system, the phone sports a slimmer profile, with the exterior covered in a 'soft-touch' blue paint scheme that looks a bit similar to the Treo 750's skin.
"The HTC-designed T-Mobile Wing is a versatile, user-friendly smartphone that will appeal to a wide range of consumers," purred Todd Achilles, vice president of HTC America. "The T-Mobile Wing is 30 percent smaller than its predecessor, the T-Mobile MDA, and is packed with broad functionality that enables users to experience the best in connectivity, productivity and mobility," he continued.
It's still a bit of a heffalump to our eyes though, weighing in a pocket-troubling 169g (6.7oz) and measuring up at 2.3 x 4.3 x 0.7 inches.
In an attempt to make it feel less bulky in the hand, there's been a bit of sculpting action going on with the front and back faces of the Wing (it's a rubbish name, isn't it?).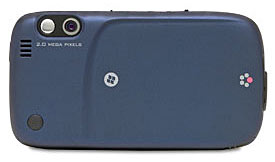 The quad-band GSM phone supports the 850, 900, 1800 and 1900- MHz bands (but no 3G) and is powered by a 201-MHz OMAP850 processor.
Memory comes in the shape of 64MB of RAM and 128MB of read-only memory, with T-Mobile saying that the Wing comes with just 26MB of free memory and 16MB of available program storage by default.
As the wig-spinning Paul Daniels might say, "That's not a lot!"
Keyboard
The QWERTY keyboard now slides out from the right side of the phone instead of the left side, so that the d-pad is now to the left of the display when the keyboard is extended.
This should make it easier for right handed users to operate the phone, although we're not really fans of sliding keyboards as they're a b*gger to operate when you've only got one hand free (like when you're attending to an important SMS in the Little Boy's Room).
Onboard, there's a version of Internet Explorer, Microsoft Office Mobile with Word, Excel, and PowerPoint, and support for AOL, Yahoo!, Windows Live Messenger and ICQ Instant messaging.
Naturally, the Wing packs all the latest Windows Live gizmos including Live Messenger, Live Hotmail, Live Search and Live Spaces and support for Microsoft's push email system.
The phone also comes with voice dialling, voice commands and voice recorder, a speakerphone, Bluetooth connectivity and a MicroSD memory card slot.
A 2.0 megapixel CMOS camera lurking on the back comes with a 8x digital zoom and supports video capture at a low res 176 by 174px resolution, with the built in media player taking care of movie and music playback.
The 2.8-inch diagonal, 65K-colour TFT screen only manages a 240 x 320px resolution which we find a tad disappointing for multimedia device.
An early review on PC World praises the phone's battery life and call quality, but expresses concerns about the poorly constructed buttons, limited storage and some frustrations with the usability of the Windows operating system.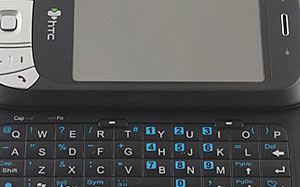 The T-Mobile Wing will be available exclusively to T-Mobile US customers from today for around US$300 with a new two year service agreement.
T-Mobile Wing specs
Band GSM 850/900/1800/1900MHz
Data GPRS/EDGE/WiFi
Size 109mm x 58mm x 20mm
(2.3″ x 4.3″ x 0.8″)
Weight 169g (6oz)
Battery Life Up to 8.25 days standby
Up to 5 hours talk time
Main Display 2.8″ 65k colour TFT QVGA (240×320 pixel) resolution
Sub-Display N/A
Camera 2 megapixel
Video Video capture/playback
Messaging MMS/SMS
Email POP/IMAP/SMTP
Bluetooth Yes (stereo)
Infrared No
Java Yes
Polyphonics Yes
Memory 40MB available, 44MB RAM, microSD memory card slot
Availability Now
Other Windows Mobile 6, instant messaging, QWERTY keyboard
Full HTML Web browsing
Support for Microsoft Office Mobile
Windows Live for Windows Mobile
Windows Live Messenger, Windows Live Hotmail
Live Search, and Windows Live Spaces
Direct Push e-mail available with Exchange Server 2003 SP2 and later