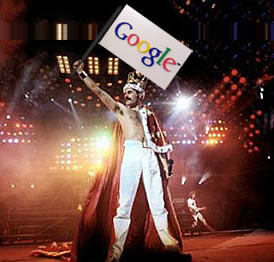 Just when Microsoft was developing as bit of a confident man-about-town swagger about its rising search engine performance, a new report from Nielsen/NetRatings delivers a humbling slapdown in the goolies.
The figures, released yesterday, show that after gaining ground for a couple months, Microsoft lost a chunk of their search market share in April, while rivals Google and Yahoo enjoyed lengthy back-slapping sessions as traffic rose.

Billy Gates and the Redmond crew saw their share of the market go all Simon'n'Garfunkel on them, slip sliding away to 9 just percent, a hefty slither downwards from last month's 10.1 percent share.
Meanwhile, Google's offices rocked to Queen's "We Are the Champions," as the search engine maestros further increased their dominance, ratcheting up their market share to a whopping 55.2 percent of all Web searches, up from 53.7 percent in March.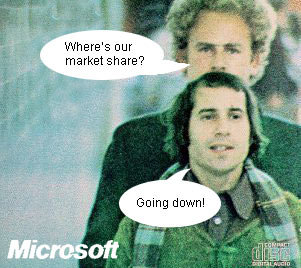 Like an increasingly ferocious puppy dog yapping at the heels of its master, second place Yahoo also managed to make itself heard with a market share growth of just 0.1 per cent, taking them up to a respectable 21.9 percent.
Lagging so far behind you'd need binoculars to spot them are AOL, who remained stuck in fourth place for April but with a declining market share of 5.4 percent from 5.8 percent in March.
Fifth placed Ask.com – who are mid-way through an aggressive advertising campaign – saw no change to their Tiny Tim-sized 1.8 percent share of search queries.