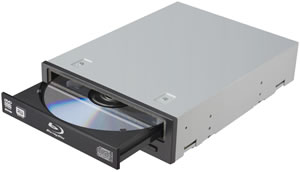 Optiarc, the product of the joined Sony and NEC's optical storage divisions, has released the BD-M100A, their first Blu-ray Burner.
It burns single and dual layer BD-R and BD-RE Blu-ray discs, giving a storage capacity of up to 35Gb and 50 Gb respectively. It also supports BD-ROM and BD-AV discs.

This being early days of Blu-ray burning, the fact that the drives reaches double speed is something to be celebrated.
Not surprisingly it will read and write all current DVD and CD formats.
The drive was seen at CeBIT earlier this year.
It's available now and Optiarc tell us that the price will be £400 + VAT.
Who is Sony NEC Optiarc?
If you're not sure who Sony NEC Optiarc is, here's the background. It's the product of the merger of the storage-drive divisions (CD- and DVD-drive business including the new generation of blue-laser DVD drives) of Sony and NEC – unsurprisingly. The JV was set up in April 2006 and is owned 55%/45% by Sony and NEC.