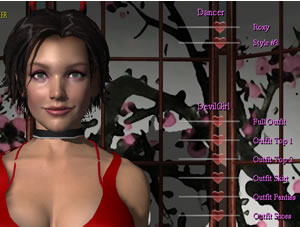 Well, if there's one area of convergence that we haven't been keeping up to date with, it's obviously virtual stripping.
We remember seeing a one-inch high wiggling dancer than stood on the same spot on a Windows desktop and was a dancer, not a stripper. That was about five plus years back, but since then it's dropped off our radar.

Today that all changed, we were brought bang up to date when we _had_ to watch the promo video for the launch of DreamStripper Cabaret (the things we have to put ourselves through in pursuit of a story dear reader).

This virtual world, as it has with many others, has certainly moved on leaps and bounds. No longer confined by processing power to be a tiny tom-thumb dancer, the DreamStrippers are not only as tall as you like, but 3D, have getting-close to realistic skin and their movements are motioned captured – so realistic.
Building on their previous top of the range product DreamStripper Pro, the developers claim not only to have made improvements with the dancers themselves, but have created a club for them and even dressing rooms. Oh and it's got the inevitable link with iTunes, so you can play your music from there.
From the video it looks like you can change just about everything about the characters – clothes, hairstyle, body shape – except their desire to stop striping and decide to go to college instead.
Dream strippers appear to just be of the female variety now, but we assume with enough demand, we'll be seeing all sorts – probably with a GUI that lets the punter choose exactly what body parts they want included.
It's not so much as how good this software is – and it certainly could do with some improvement (or we could do with a better graphics card) – it's just this is a sign post as to how 'adult entertainment' could well move.
The video, probably NWS, but it's been labelled as not having nudity in it.