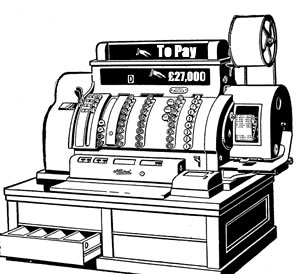 A Vodafone customer in Darlington got the shock of his life before new year, when he learned from Vodafone that he'd racked up a huge mobile data bill.
A 'friend' of his had told him that he could wire his mobile phone to his laptop to use it as modem. After signing up for a £41.50/month deal, Ian Simpson from Darlington, thought he could use it without limit.

Within four weeks his bill hit £27,322.
He told local newspaper, The Northern Echo, "I probably downloaded 20 or 30 TV shows and four albums. I assumed it would be okay, but they (Vodafone) cut me off. I rang up and they said I owed them nearly £30,000. I just laughed out loud – how on earth could I afford that?"
The Vodafone deal he'd signed up for actually offered him up to 120 MB, which would have been gobbled up in less that one of the TV shows that he'd downloaded. The excess charges cost up to £18/minute.
Simpson fears that such a huge bill could take him into bankruptcy, if he's forced to pay it. Luckily Vodafone appear to be cool about it with a spokesperson saying "We will try to come to some sympathetic arrangement. And we hope he won't make the same mistake again."
Vodafone suggested, "Our advice would be to never use a mobile as a modem."