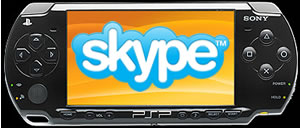 Skype _will_ be coming to Sony's PSP.
Following on from all of the faux-shyness of Skype and Sony refusing to officially confirm that Skype was going to be seen on the Sony PSP at CES, they've just released the news that … tad daaaa … it is. So no shock there and both Sony and Skype end up with some pre-CES buzz and everyone in the PR departments are happy.

To get your PSP officially Skype-d, all that PSP owners will need to do is to download a system software update which is scheduled for late January and they'll be away. Early signs are that it probably won't be supporting Skype's IM, probably because entering text on the PSP would be a right royal pain.
Alongside the non-surprising PSP support are a number of other mobile devices that they showing at CES, some that us won't be new to see for us Euro-types. Anyway here you go …
Freetalk Wireless Stereo Headset
Intel-based Mobile Internet Devices
Nokia N810 Internet Tablet
One thing that we'd love to know is where the money flows on these deal. Does the hardware producer call up Skype and thrown money at them to get their platform supported; or is it a chuck-in-the-skills and we both benefit; or combinations of both of those?