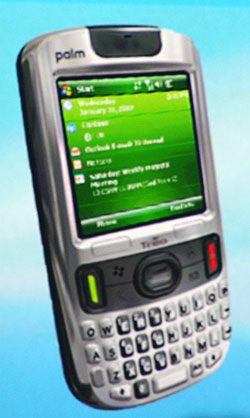 Seen lurking behind Bill Gates head in his presentation at CES 2008 was a photo of a new high-end Windows Mobile Palm phone, rumoured to be the replacement to the well-received Treo 750w.
According to Vodafone UK documents leaked on the web, the new Treo 800w (850w?) phone regales under the codename of the 'Palm Drucker', and packs a quad-band GSM/GPRS/EDGE with a tri-band 3G/3.6 UMTS/HSDPA radio, running Windows Mobile 6.1.

The specs show Palm improving the miserly 240×240 screen of its predecessor up to a more spacious 320 x 320 resolution, with the unit sporting a QWERTY keyboard, a 2 megapixel shooter, built in GPS and – at last! – Wi-Fi.
The attractive design follows the layout seen in the Treo 500v and Centro, although two new hardware buttons have appeared just under the screen.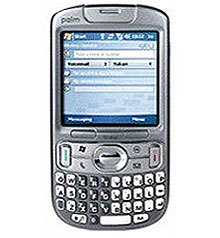 There's also Bluetooth 2.0 onboard with a beefy 1500mAh battery to handle the power, with the new handset scheduled to be released on Vodafone in July, 2008 for £270.
Vodafone and Palm seem to be feeling the love in the UK, with the network being the first with the Treo 750 (see review) and the Treo 500v (see review).
Sadly, there's nothing on the horizon yet for long suffering fans of the Palm OS (that's us, folks).
Despite the success of the Palm OS Centro in the States, there's still no word of a GSM version for the UK, and built in Wi-Fi and GPS still looks the stuff of sci-fi fantasies for the platform. Sort it out Palm – our Treo 650 is in dire need of a replacement!