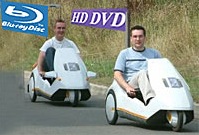 Rumours are circulating that HD-DVD could be losing the support of another studio.
Yesterday, we covered Warner Brothers showing their cards and deciding to support Blu-ray in favour of HD-DVD, despite comments from Toshiba that there may be some legal contracts in place with Warners.

Today, the Financial Times is reporting that Paramount is "poised to drop its support of HD-DVD."
The FT reports that they understand that Paramount has a "clause in its contract with the HD-DVD camp that would allow it to switch sides in the event of Warner backing Blu-ray."
Digital-Lifestyles knows people who are charged with making Blu-ray a success, and it's no exaggeration to say that they are obsessed … completely obsessed with Blu-ray becoming the dominant format for video distribution. Their campaign has been long and hard, but it looks like the work that they've put in is paying off.
Sony "open to dialogue"
It appears that Sir Howard Stringer, Sony's CEO, is attempting to remain humble. It's reported that on Monday, he said they would be "open to dialogue" with the HD-DVD collective.
Original talks between HD-DVD and Blu-ray to join the two formats broke down about a year ago.
A video format without content is not a lot of value, as Sony found out with their Betamax video cassette format in the 80's – one reason their so obsessed with winning this time.
All is not lost
If HD-DVD isn't successful as a video format, it's got a strong possibility as a successful data format, especially as they have so many drives installed in computers.