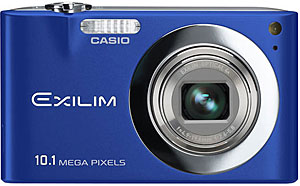 There's been a veritable motordrive of new cameras announced at this year's CES show (Consumer Electronics Association) in Las Vegas.
Here's some of the announcements that have caught our eye.

Casio EX-Z100 and EX-Z200
These two new 10.1 megapixel compacts boast a wide angle zoom – the first from Casio – covering a 28-12mm equivalent 4x zoom range.
Both models come with a 2.7″ LCD screen and sport Auto Shutter and Auto Best Shot features which aim to scoop that winning shot by analysing the shooting conditions and selecting the appropriate exposure settings. The Auto Shutter wotsit can be set to hold back from taking the photo until the camera shake has calmed down and the subject has cracked a smile (you'll be kept waiting a long time if you're snapping an Emo band).
The EX-Z200 comes with the all-important CCD-Shift image stabilisation, and both can knock out video clips at 848 × 480 (UHQ Wide/HQ Wide) resolution.
The pair will be shimmying on to shop shelves from March 2008, with the EX-Z100 priced at $279.99 and the EX-Z200 $329. We like the look of the blue one!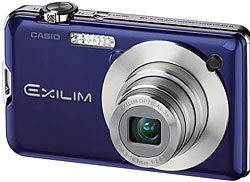 Casio EX-S10 – 'the world's slimmest'
Claimed to be the slimmest 10MP on the known planet, the 15mm thick Casio EX-S10 still manages to wedge in 10 megapixels o'fun, with a beefy 2.7″, 230k LCD screen filling the rear (ooo-er).
Touted as a 'Wearable Card Camera' (what?) the wee fella squeezes in a 3x optical zoom and an over-flowing platter of Casio scene modes including the YouTube Capture Mode
There's also 'smile detection' on board and the diminutive snapper comes in Red, Blue, Silver and Black and will be available in the States from February priced at $249.99.
Casio EXILIM EX-Z80
A rather ordinary but reasonably smart looking affair aimed at the point'n'shooting masses, the EX-Z80 struts its stuff with a 8.1 megapixels sensor, 38-114 mm (35mm equiv.) 3x zoom with a 2.6-inch wide TFT 114k LCD lurking on t'back.
There's Auto Shutter and face detection onboard to help shaking photographers snapping glum chums, with a widescreen video mode capturing the action at 848 x 480 (UHQ Wide/HQ Wide, 30 fps)
The EX-Z80 is scheduled for a March 2008 release, priced at $199.
Look out for Part Two where we look at more of the cameras just announced at CES.