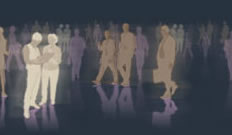 It's Macworld Expo time again (well next week from Jan 14th through Jan 18th in The Moscone Center, San Fran). Apple tend to use MacExpo for new product announcements with Mr Jobs in his familiar jeans and black turtle neck jumper delighting the Apple fans.

This year has been different though and Apple announced their new MacPro line-up at CES in Las Vegas, probably because the machines are based on new Intel CPUs which Intel announced there too.
New MacPro
Apple's desktop range haven't been updated for a while (except for a few processor speed'ups), but now they have and they're all based on the new Intel Penryn CPUs (quad core using a 45nm process).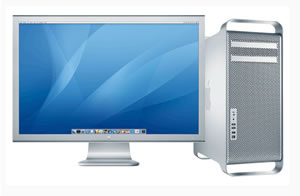 All MacPros now come with 2 CPUs which gives them 8 cores (though they can be ordered with only one CPU at the basic 2.8GHz model). The speed then goes up to 3.0GHz or 3.2GHz.
Memory starts at 2GB (2 x 1GB pairs), going through 8GB (4 x 1GB), 16GB (8 x 2GB), 16GB (4 x 4GB) and 32GB (8 x 4GB) – the basic model comes with 2GB, while 32GB will set you back an extra £5,760.00 (+VAT).
The graphics selection has improved with both NVidia and ATI cards to choose from. The basic config comes with a single NVIDIA GeForce 8800 GT 512MB GDDR3.
A cheaper variant is to put a single ATI Radeon HD 2600 XT 256MB GDDR3 (-£130), but up to four can now be put in the unit (an extra £270) so four cinema displays can be driven from the unit – that's a huge amount of screen space if 30inch displays are used – buy a very big desk.
At the very top end comes an NVIDIA Quadro FX 5600 1.5GB GDDR3 (+£1,669.99) which is a beast of a 3D professional card.
Hard drives come in SATA variants of 320GB, 500GB, 750GB and 1TB and there are four drive bays so that's four per machine (i.e. a max of 4TB per unit). SAS drives are available in 320GB but require a SAS controller (each SAS drive is £410 and the SAS RAID controller is another £510).
There's then options of one or two 16x SuperDrives, an Airport Extreme card (which is Apple's name for 802.11n WiFi), a USB modem, Fibre Channel card, wired or wireless mighty-mice and (new) keyboards.
Cinema displays can also be purchased.
Apple's Xserve has also been updated with the new CPUs.
Tomorrow we consider what might be coming up at MacExpo.