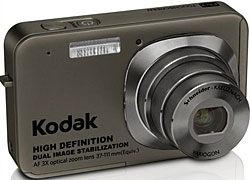 Yesterday we brought you the first set of digital camera announcements from CES 2008, in this concluding part we give you three more.
Kodak V1273 and V1073 ultra compacts
These two new ultra compacts from Kodak come with optically stabilised lenses, stills output in 720p and 1080i HD formats and the ability to record video as MPEG-4 compressed 720i High Definition videos (1280 x 720 @ 30fps).

Stuffed to the gills with no less than 12 mexapixels of resolution, the V1273 comes with a large 3 inch (7.6 cm) touch screen and a 3X 37-111mm (35mm equivalent) optical zoom, while its near-identical brother the V1073 IS offers the same features but with a lower 10 megapixel resolution.

We can't say that the cameras are particularly easy on there eye, but snappers may appreciate the the full-resolution ISO 3200 mode backed by 32MB of internal memory. Price and availability to be announced.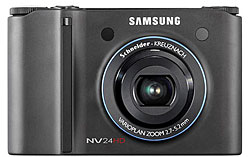 Samsung NV24HD
Continuing their same distinctive camera design, the Samsung NV24HD is the company's first model capable of recording 720p HD video at 30 fps.
The 10 megapixel NV24HD can snap photos right up to ISO 3200, boasts a local contrast control for balancing shadow and highlight detail and the sleek black fella can display images via HDMI or on its 2.5″ OLED display.
Packing electronic and optical stabilisation systems the Samsung NV24HD should be slipping off product runways from March for £249.
Lumix/T-Mobile wireless digital upload service
Elsewhere, Panasonic announced the development of a new Lumix wireless camera, enabling punters to upload images directly to Google's Picasa Web Albums via a deal with T-Mobile HotSpot service.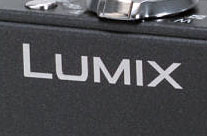 Wireless uploads will be free for Lumix users at selected Starbucks, Borders, Hyatt hotels and airports, as Tokikazu Matsumoto, big cheese at Panasonic AVC Networks Company's Digital Camera Business Unit explains:
"The new LUMIX will be the perfect digital camera for consumers who are accustomed to the benefits that wireless connections offer: speed and convenience. Ideal for the active user who is always on-the-go, the new LUMIX with wireless network connectivity, has the ability to upload directly to Picasa Web Albums, making sharing photos with friends and family, as simple as a touch of a button and as seamless as connecting to a wireless network."
Keen to joint the backslapping and show off his unfeasibly large job description, Merwan Mereby, vice president, New Business Development and Strategic Alliances, Panasonic Consumer Electronics Company piped up:
"Our collaboration with T-Mobile Hotspot and our work with Picasa Web Albums open programming interface pushes the boundaries of digital photography. We are in a new paradigm of taking digital photographs, where people want to share their memories easily, while also embracing the immediacy that online communities demand."
It's worth noting that T Mobile's generosity knows some bounds, with the freebie uploads only being available for the first year.