We covered Apple surprisingly announcing the new 8-core Mac Pro launched at CES … in advance of MacExpo, their usual launch-fest.
Apple never announces anything in advance, but there are many rumours circulating on the various Mac user sites which we're brought together for you.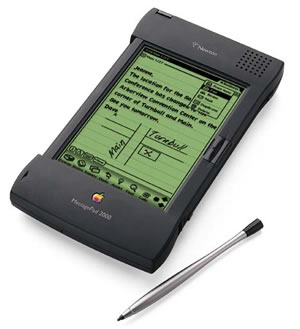 Ultra-portable
Most people probably won't remember Apple's foray into the PDA market with the Newton. It flopped, though it was incredibly advanced for the time. It's now time for an ultra-portable to come back on to the scene.
It's likely to be a MacBookPro type device with a touch-screen/ stylus. There may only be solid state memory, so it starts quickly.

As an ultra-portable it will have all your basic MacOS functionality with the ability to read pretty well any document on the go. Hopefully there'll be some editing capability as well. It will be the ultimate PDA, but also a functional computer.
Apple can definitely port MacOS to small devices (iPhone/iTouch) so the move to an ultra-portable shouldn't be too difficult.
New Cinema displays
The Cinema displays haven't changed for a while and are now decidedly dated, especially if compared to the new iMacs. There's a good chance that these will be updated to match with a glass front. They'll still be extremely expensive, but very pretty.
iMac/Dock
As people will want to use their UltraMac (my name) in the office, Apple may be producing an iMac like docking station that the UltraMac can slide into and used in the office. It will have an iMac like screen, disks and ports to connect things to.
3G iPhone
Definitely on the cards a 3G iPhone is on the way. Similar to the current model but with more memory (16GB minimum). It will also support a more fully featured OS and some kind of Push Email, so all those corporate Blackberry users can switch.
And Lastly … Video downloads
iTunes 7.6 is due for imminent release, the major feature being video downloads from the iTunes store. It seems Apple have been working with the studios already and that some currently released DVDs have got the movie on the disk and a variant encoded in H.264 for use on iPods and another in WMV (Windows Media Video). If you insert the disk into a PC or Mac, iTunes recognises it, but comes up with an alert that iTunes 7.6 is required.
Video downloads and/or rentals on the iTunes store could be the spark that Apple need to boost sales of their AppleTV unit. It might also help that Apple are now reducing the cost of UK music downloads to match those across the EU (and US), though there's still wrangling to be done with the record companies. If video is also made available worldwide at the same price, iTunes may keep its hold of the download market for quite some time.
These are only rumours, let's see what's really coming. Tune back to us on the launch day, we'll be in the crowd listening in for you.