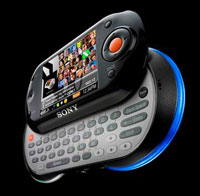 Sony has released details of the Mylo, a groovy new Wi Fi-enabled personal communications device aimed at Instant Messaging nutters.
Available in black or white, the curvy handheld comes with 1GB of built-in flash memory and features a slide out QWERTY keypad, 802.11b Wi-Fi and three free instant messaging services pre-installed.
A cringe worthy video on the Sony site declaring the Mylo to be the "the easiest, raddest broadband device" makes it clear who this device is aimed at: dA K1dZ.
Instant Messaging
With Skype, Yahoo Messenger and Google Talk onboard, Sony is hoping to attract Instant Messaging addicts, although with only Wi-Fi connectivity and no SIM cards onboard, users are going to need to find free wireless networks to enjoy the fun.
The device ships with JiWire's hotspot directory, which lists more than 20,000 WiFi networks across the US (but nowt for UK users), and there's an avatar-enabled "What's Up" screen which lets users check the online status of up to 90 friends.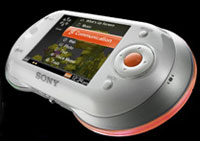 For teens who, like, don't find email too slow for their hyperactive needs, there's also an e-mail client, compatible with services such as Yahoo! Mail and the Gmail web mail service.
So long as there's a free Wi-Fi connection within range (not always an option here in Britland), the Mylo looks to be a capable wireless device, offering predictive typing, the excellent Opera Mini browser, and a fun option to share playlists and stream songs between other Mylo users.
Multimedia support
Sporting a 320 by 240 pixel 2.4-inch LCD screen, the handheld offers a full suite of multimedia support (music, videos and photos) with a Memory Stick Pro Duo slot allowing up to 4GB of extra storage (Sony is set to introduce a 4GB Memory Stick this month for $170).
There's also a built in speaker for annoying bystanders, with the Mylo supporting MP3, ATRAC, WMA (inc DRM stuff), MP4 (Advanced Simple Profile) and JPEGs formats.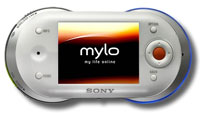 Battery life looks pretty good too, with a claimed 45 hours of music playback and around seven hours of instant-message chatting/Web surfing.
This drops to just three hours when the Mylo is used for Skype telephone calls – mere moments for teenagers.
The device comes with a microphone, stereo headphones, a USB cable and a neoprene case and is expected to retail for around $350 (~£183, ~e272) in September.
Oh, and the name 'Mylo' supposedly stands for "my life online," in case you were wondering.