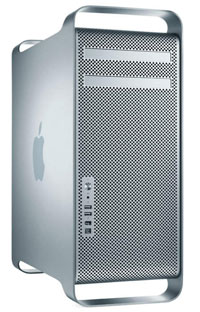 Apple has announced the new G5 PowerMac, a quad Xeon, 64-bit desktop workstation stuffed with two new Dual-Core Intel Xeon processors running up to 3.0 GHz which are claimed to deliver "up to twice the performance of the Power Mac G5 Quad."
The new desktop sees Apple completing its move to Intel processors, with Steve Jobs, Apple's CEO enthusing, "Apple has successfully completed the transition to using Intel processors in just seven months – 210 days to be exact."
The shiny new Mac Pro features two Dual-Core Intel Xeon processors running up to 3.0 GHz, each sporting 4MB of shared L2 cache and independent 1.33 GHz front-side buses.
Apple says that there's "more than 4.9 million possible configurations" of the Mac Pro available (who works out this nonsense?), with a new "direct attach storage solution" allowing snap in installation of up to four 500GB Serial ATA hard drives up to a total of 2TB of internal storage.
The machine offers support for two optical drives to simultaneously read and/or write to CDs and DVDs with space for three full-length PCI Express expansion slots and one double-wide PCI Express graphics slot.
On the front panel of the Mac Pro there's a FireWire 800 port, a FireWire 400 port and two USB 2.0 ports, with extra FireWire 800, FireWire 400 and three USB 2.0 ports lurking on the back panel.
Wrapping up the connectivity options, there's also dual Gigabit Ethernet ports, optical digital input and output, analogue audio input and output, and optional built-in support for AirPort Extreme and Bluetooth 2.0+EDR.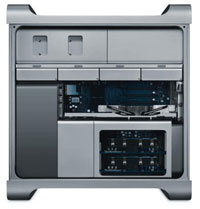 Graphics are taken care of with a NVIDIA GeForce 7300 GT with 256MB of video memory, with dual-display support.
Users keen to take advantage of the zillions of configuration options, can upgrade to beefier ATI Radeon X1900 XT or NVIDIA Quadro FX 4500 cards that both come with 512MB of video memory.
The standard configuration of the Mac Pro is shipping, priced at £1,699 (~$2,499, ~e2,522), without a monitor.
Mac Pro standard configuration:
Two 2.66 GHz Dual-Core Intel Xeon processors;
1GB of 667 MHz DDR2 fully-buffered ECC memory expandable up to 16GB;
NVIDIA GeForce 7300 GT with 256MB of GDDR2 SDRAM;
250GB Serial ATA (3Gb/s) hard drive running at 7200 rpm;
16x SuperDrive with double-layer support (DVD+R DL/DVD±RW/CD-RW);
Four PCI Express slots: one double-wide graphics slot and three full-length expansion slots#
Ships with Mighty Mouse and Apple Keyboard.
Leopard OS
During his annual speech yesterday, Apple CEO Steve Jobs briefly previewed the next version of Apple's X operating system.
Known as "Leopard" and scheduled for launch in spring of 2007 (and thus failing to capitalise on Vista's delays), Jobs teased the audience by saying, "There's some top secret features we're going to keep a little close to the vest."
He did, however, reveal some of the new features the operating system, which include a 'Time Machine' option that automatically backs up a Mac, enhanced videoconferencing options, improved Mail and the bundling of the Front Row and PhotoBooth programs.