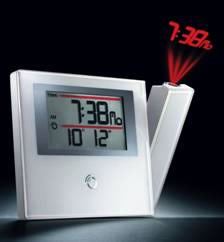 We've been using a projection clock for over a year now and find it great to use.
Somehow you feel like you're waking up less if you just have to open your eyes and look up at the time projected onto the ceiling, rather than actually lift your head to look at the clock beside you bed, to find out what unearthly hour you've woken up at.
Anything that wakes you up less in the middle of the night has got to be a good thing, that is unless you want to wake up of course!
Continue reading Oregon Scientific Release Thin Projecting Clock And Weather Station