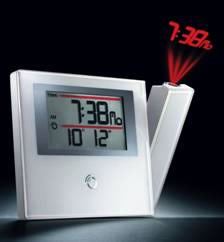 We've been using a projection clock for over a year now and find it great to use.
Somehow you feel like you're waking up less if you just have to open your eyes and look up at the time projected onto the ceiling, rather than actually lift your head to look at the clock beside you bed, to find out what unearthly hour you've woken up at.
Anything that wakes you up less in the middle of the night has got to be a good thing, that is unless you want to wake up of course!
Depending how much space you've got beside your bed, or how important slimness is for you will depend on how appealing you'll find the new products from Oregon Scientific.
They tell us that their Slim Projection Clock is one of the slimmest on the market and with the time of the clock being radio-controlled, you'll never have to worry about setting the time, or indeed getting caught out when the clocks change.
It's out this month and retails for £30.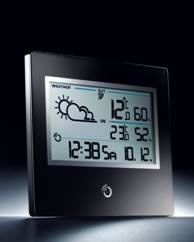 Thinnest weather station
Along with the clock they're also releasing the Weather Box which they say is the world's thinnest weather station. It can be placed on a flat surface, or mounted on the wall.
Alongside the radio-controlled time, it also displays the indoor and outdoor temperatures and humidity.
You don't need to be a meteorologists to use it, as it's got a simple to understand graphics which aim to predict the weather.
It's out this month and retails for £40.