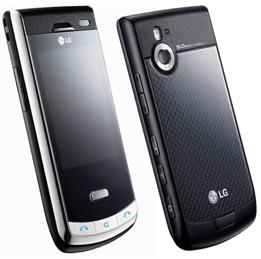 In Part One and Part Two we worked our way through some of the best smartphones on the market.
LG KF750 Secret
Looking way slick with its carbon fibre battery cover and tempered glass display, the Secret is a neat sliderphone packed with a ton of multimedia gizmos wedged into its slimline frame.
There's a 5MP autofocus camera with AF-assist light onboard, backed by VGA video recording at 30 fps, plus SloMo and Fast video recording options.
There's 3G with HSDPA, USB, Bluetooth, hot-swap microSD card slot and a FM radio inside, with an ambient light sensor and accelerometer. The dab-magnet screen, however, is a disappointing 320 x 240 QVGA job and we couldn't get on with the haptic feedback which just felt gimmicky. Worst of all, there's no Wi-Fi to be found, so it's off our list.
Digital-Lifestyles score: 78%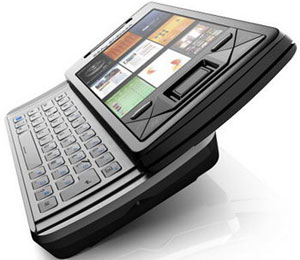 Sony Ericsson Xperia X1
Featuring a fully customisable panel interface and a neat slide out QWERTY keyboard, the Xperia is a stylish and fairly compact handset packing a healthy 3-inch touch screen supporting 800×480 pixel resolution. We love the 3.5mm headphone jack, Bluetooth 2.0, Wi-Fi, quadband, 3G and support for the 850/1900/2100 UMTS/HSDPA bands, assisted GPS, high quality 3.2MP camera and video, FM radio, expansion slot, decent battery life and healthy media support but aren't so keen on the fiddly buttons and reports of sluggish performance.
Despite its funky interface, scratch a little deeper and you'll soon be dumped into the Stygian horrors of Windows Mobile, which inevitably means battling with incomprehensible dialogue boxes with an itty-bitty stylus. Nice phone, shame about the OS.
Digital-Lifestyles score: 88%
T-Mobile G1
Of all the new smartphone options, this is the one that's got us most excited, mixing the goodness of Google with an exciting new open source mobile platform. The phone, although not a looker, has almost all the features we want: 3G, quadband, Wi-Fi, Bluetooth, memory card slot, GPS 3MP camera, big 480 x 320 screen, slide out QWERTY, a decent battery life and a clever digital compass. We love the idea of being involved with such an innovative new platform, and some of the early apps look very exciting.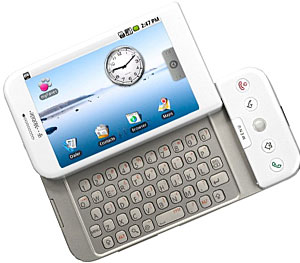 In fact, we were so stoked up we were ready to splash out our hard-earned moolah and buy one, but that was before we encountered T-Mobile's indescribably awful customer service department. They decided that as loyal customers for 10 years we were not only not worthy of a single dime of discount, but could expect a £300 excess for our troubles. We're still interested in the G1, and perhaps the phone's disappointing sales figures will force T-Mobile to get their heads out of their greedy backsides and start offering more attractive deals.
Digital-Lifestyles score: 89%
In the meantime, we'll battle on with our Palm Centro, a neat, powerful little handset that can run rings around many of the latest phones for speed and usability, but the lack of Wi-Fi and fast-disappearing developers means that it's sadly not a platform we feel inclined to continue investing in.
Let's hear your opinion!
Have we missed any handsets? Disagree with our verdicts? Which phones would you recommend? Or are you as frustrated as us with what's currently available?