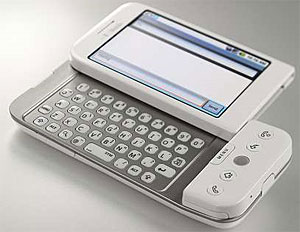 In a hugely anticipated event, telecoms big boys T-Mobile, handset supremos HTC and search kings Google have announced the launch of the G1, the first handset to run the open source Android operating system.
Set to launch on October 22nd in the US for $179 on T-Mobile in the US on two-year contracts with the UK following in early November, the handset packs WiFi and 3G radios, a 3-megapixel camera, and support for Amazon's mobile MP3 store and the Android Market for application software downloads.
We've already told you about the Amazon app, and the Android Market will allow downloading of various Android apps from the phone, much like the iPhone's AppStore.
Details of other apps are still filtering through, and include the barcode-reading ShopSavvy which lets you do comparative shopping; Ecorio lets users keep track of their daily travels and view what their carbon footprint and BreadCrumbz letting phone user create a step-by-step visual map using photos. User-created routes can then be shared with friends or in the Internet.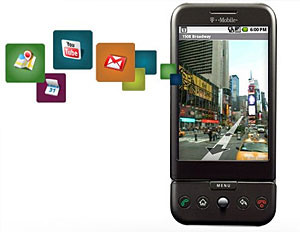 There's a removable battery and copy and paste for the win, as well as push GMail with Google Talk presence, and users can access Google Search, Maps, Gmail and Contacts, Calendar, Google Talk and You Tube with a single sign-on. Nice.
Microsoft Word and PDF files can be read on the device but there's no Exchange support yet nor desktop synchronisation (that all happens over the air) – but with the operating system being open source, we can expect a flood of useful – and not so useful – apps to fill any gaps soon.
Here's a rundown of the specs:
Screen: 3.17″ 65K colour touchscreen, HVGA (480×320) resolution.
Connectivity: GSM/GPRS/EDGE/Wi-Fi and UMTS/HSDPA
850/900/1700/1800/1900/2100Mhz
Trackball: yes
Camera: 3.1MP (approx 35mm 4×6 print quality)
Storage: 1GB MicroSD card pre installed. Supports 8GB MicroSD.
GPS: yes
Google Maps: yes, with integrated Street View and a built-in compass orients the map to your position.
Accelerometer: yes
Bluetooth 2.0, WiFi, and HTC's annoying proprietary ExtUSB connector for headphones
Battery Life: 1150 mAh battery giving 5 hours talktime, 130 hours standby
Removable battery: yes (huzzah!(
Dimensions: 4.60″ x 2.16″ x 0.62″
Weight: 5.6 ounces
Colours: white, black and brown.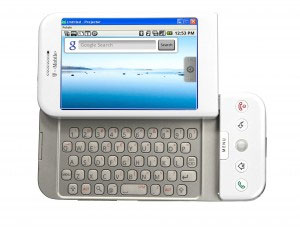 We have to admit that we're more stoked than Casey Jones' fireman about this handset. The specs are spot on, the usability looks great and – vitally – it runs on open source goodness without any of that 'pre-approved by Apple' nonsense getting in the way of software development.
Of course, it's important to remember that this is just one phone. The real excitement will come when we get to see what manufacturers like Samsung and LG get to do with Android.
T Mobile G1 website
Google blog
Walt Mossberg: First Impressions