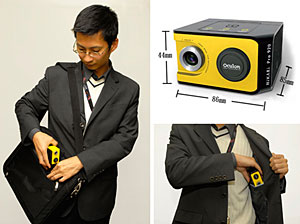 There's no denying that your pockets will have to be a tad larger than most, but Oculon really have managed a marvellous feat of miniaturisation with their new Hikari Pro1440 and Pro920 projectors.

Despite measuring just 77mm x 82mm x 45mm, the pint-sized Pro1440 projector packs a pretty powerful punch for its paltry $399 asking price, and is capable of bashing out 250 lumens across a 20-inch, 800 x 600 pixel display via a connected composite or D-Sub15 RGB connected cable – great for hooking up your game console, laptop, UMPC or portable media players.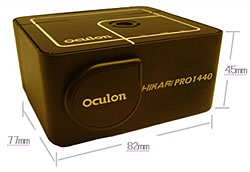 That's not exactly cinema-pleasing power for sure, but it might just be better than having a horde of people huddled around your laptop at business meetings. Or maybe not, depending on how bright the thing actually is in real world use.
Its cheaper ($299) Pro920 cousin can only muster 25 lumens across a 15-inch, 640 x 480 pixel display, and measures up at a slighter larger 86 x 44 x 85-mm.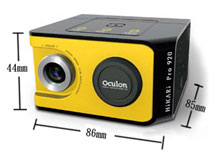 We're not exactly sure that this is indeed the "world's smallest projector" as Hikari are claiming, but there's not shortage of companies jostling about to claim the accolade, with shiny prototypes and finished models including Microvision's PicoP laser projector, Explay's laser/LED-based projector and Sony
with their "we want one of those" 410cc projector.