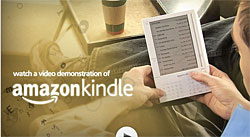 Further to our earlier story about Amazon's long-anticipated Kindle e-book reader, some more details have emerged about the device.

The Kindle has storage capacity for around 200 books, and doesn't need to hook up to a PC thanks to a built-in EVDO radio connection to Amazon's new Whispernet service, which over 90,000 books already online.
The e-book reader can download books in less than a minute, with new releases and New York Times bestsellers setting punters back $9.99. There's no charge to use the wireless service, with all download fees included included in the cost of books. Thanks to the EVDO connectivity they won't have to run about looking for an open Wi-Fi connection either.
A large selection of US-based newspapers and magazines are available including the New York Times, Wall Street Journal, Washington Post, Atlantic Monthly, Time, and Fortune, as well as some European newspapers like Le Monde, Frankfurter Allgemeine and the Irish Times.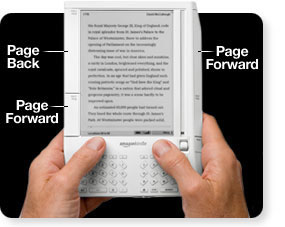 Kindle can also automatically download newspapers and magazines overnight, so that users wake up with a 'fresh' paper on their reader.
Monthly Kindle newspaper subscriptions are charged between $5.99 to $14.99 per month, with magazines priced at $1.25 to $3.49 per month.
The Kindle store has over 300 blogs available for download, with the wireless delivery of blogs priced from as little as $0.99/month upwards. There's also built-in access to The New Oxford American Dictionary and to Wikipedia.org.
Up to six devices can be lined to a single account, so books can be shared and even read simultaneously on two devices.
Amazon's new Digital Text Platform is set to be released – this will let users upload their own content to the Kindle store for sale and download.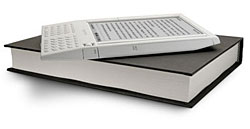 The reader uses a high-resolution display technology known as 'electronic paper' and displays ink particles electronically to give a printed-paper like display.
Running on the Kindle file format (a variant of structured HTML), the reader is compatible with Word and PDF files (only after conversion by Amazon) and a large range of formats including Mobi, HTML, plain text, MP3 and image files like JPEG, GIF, and PNG. Additional storage comes the shape of a SD card (not SDHC) slot.
There's a user-replaceable 1530mAh battery onboard offering 200: "leave wireless on and recharge approximately every other day. Turn wireless off and read for a week or more before recharging. Fully recharges in 2 hours."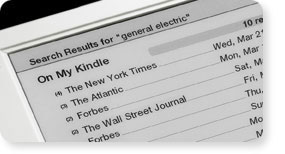 The result of three year's work, Jeff Bezos, Amazon.com founder and CEO, explains the thinking behind the project: "Our top design objective was for Kindle to disappear in your hands – to get out of the way – so you can enjoy your reading.,"
"We also wanted to go beyond the physical book. Kindle is wireless, so whether you're lying in bed or riding a train, you can think of a book, and have it in less than 60 seconds," he added.
The paperback-sized 10.3 ounces device is available next week, retailing for $399.