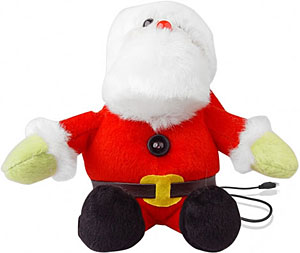 With just about every High Street store already bedecked with festive pleas for your Christmas cash and the shopping aisles ringing to ghastly canned Yuletide themes, we've finally caved in with our first piece of seasonal tack for your delectation.

And what a piece of tack it is! The USB Santa Webcam appears to be made of a red and white blob of felt and fake fur stitched together to create a passing resemblance to ol' beardy face, with the webcam component stuck in the middle of his chest, like an oversized button.
The 'high quality' CMOS webcam boasts 640×480 pixels resolution at 30 fps, and connects to a Windows 98/SE/ME/2000/XP PC via a USB 2.0 cable. Stills can be saved off as JPEG files.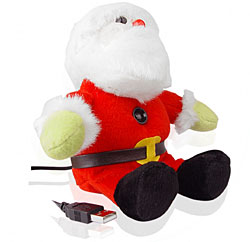 Unfortunately, there's no amusing "Yo Ho Ho!" to be heard when Santa Webcam is prodded, nor does it make any jaunty tunes when it's turned on. We fancy the sound it makes when it's kicked around the office might be fun though.
Anyway, if this is the kind of rubbish that makes your Christmas complete, you'll no doubt be able to pick one up from an Emporium o'Tack online somewhere or another, or buy direct from here.
Santa Webcam is expected to knock out for around $10 upwards and comes with a manual and a miniCD with drivers.
Features:
* Imaging sensor: 640×480
* Max. Webcam Resolution: 640×480 VGA
* Frames Per Second: max 30fps
* Still Pictures Format: JPEG
* Connection: USB 2.0
* Power supply: USB Powered
* Dimension: 150×110x70mm (LxWxD)
* System: Windows 98/SE/ME/2000/XP