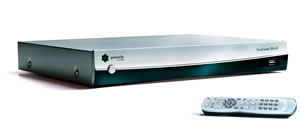 Pinnacle have announced the launch of their Showcenter 250HD. It's a device that's been designed to let you enjoy your digital media, but away from your computer.
You'll probably have guessed from the HD suffix that the Showcenter 250HD supports HiDef video, as it does with HD resolution photos.

Pinnacle tell us that it's easy to connect it to most networked computers that you may have around and your NAS. It supports the most common UPnP AV media server applications and can be used with Vista, Windows XP or Mac OS systems – and we assume correctly configured (like uShare)Linux boxes.
Connection to the box is via the built-in Wireless – 802.11b/g, complete with detachable antenna, or Ethernet – surprisingly only 100Mbit, not the gigabit port we expected given the HD video support.
Suped-up interface
The interface looks like it's had some attention since the ShowCenter 200, its previous incarnation. It's had a serious spruce up and those who have used Apple's Front Row will feel most at home with lots of reflections available.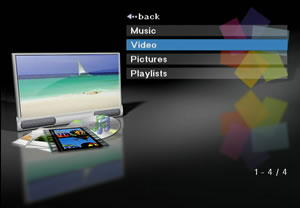 Supported media formats
Get ready, as this is a long list … Windows Media Video 9, WMV-DRM, MPEG-1, MPEG-2, MPEG-4 AVI, DivX®, and XviD files, ShowCenter supports HD playback of Windows Media Video 9, DivX HD and MPEG-4 file formats with resolutions of up to 1080i. Supported music formats range from Mp3, WMA, WMA Pro and WMA lossless to WMA-DRM and PCM WAV uncompressed.
The audio format we see missing from there is Ogg-Vobis.
Many similar boxes don't support the playback on DRM-protected media, but the Pinnacle ShowCenter 250HD does support Windows Media DRM.
Connecting to your AV kit
The options of connecting the Pinnacle Showcenter 250HD to your current AV kit is, like its media formats, extensive – SCART 21-pin connector for composite, Y/C, RGB, and stereo audio; a component video output (YPrPb, 3 x RCA), a composite video output (RCA), an S-Video output (Y/C, MiniDIN), two stereo audio outputs (4 x RCA) and two S/PDIF digital audio outputs (1 x RCA coaxial, 1 x Toslink optical). The most obvious exception is the lack on HDMI, supported by many recent screen.
Availability
If you're itching to get hold of one, you'll be sad to hear you're not going to getting it for xmas, as it'll be available from January 2008, with a retail price of £130.