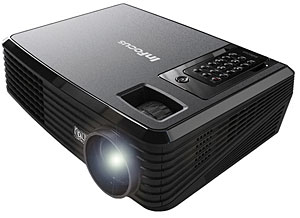 With the huge rise in sales of big Plasma/LCD screens, it's not surprising that projector companies are trying to cut themselves a slice of the consumer action.
Last week we attended an open day put on by Epson who were keen to show off their home-targeted range of projectors and now US company InFocus have weighed in with their budget priced InFocus X9 720p DLP projector.
Available for a smidgen under £500 next month, the InFocus X9 features Texas Instrument's BrilliantColor technology and serves up a 2500:1 contrast ratio and 1800 lumen brightness, with a HDMI 1.3 input on the back.
The 720p projector comes has a short throw ratio of 1.55 -1.7 Distance/Width which – in normal-person-speak – means that it can project videos between 0.69m to 9.13m (diagonal) in size, with the thing sat between 1m and 12m from the screen (or wall).
Naturally, there's automatic focus and zoom rings onboard plus adjustable feet, and the X9 comes with a natty credit card sized remote, letting you fiddle about with the digital zoom, keystone, movie, games and PC mode selection from the comfort of your sofa.
Getting your 720p, 1080p, 1080i, HDTVs and High Defs confused?
Check out this excellent CNet article that explains the differences between the different video formats.