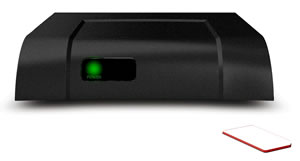 Pace, UK suppliers of digital TV products, have become the first company to receive an award under the new Energy Star Program.
Energy Star is voluntary, market-based partnership to reduce greenhouse gas emissions through energy efficiency.
Pace's Digital Transport Adapter (DTA), the DC50X, is the first product to qualify under the new program. Pace expect that the DC50X will be deployed by Comcast to its customers in the USA.
The rules laid down by Energy Star specifiy that these devices must consumer no more that 70 KWh over a year, which through its 4W/h in use, the DC50X easily fits within. In fact they half it, coming in at 35KWh.
Pace are also keen to point out that it's on tof the smallest STBs around.
Mike Pulli, President of Pace Americas was pleased to point out, "Pace is committed to reducing our environmental impact across all aspects of our business – from products to our operations and supply chain – but it is with our products that we can have the greatest impact."