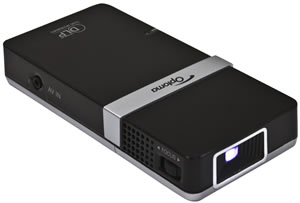 Projections company Optomo has announced a pocket-sized video projector.
A long time back, Texas Instruments, or TI as it's commonly referred to as, made the decision that they'd be a big player, if not the largest, in the world of video projectors.
At the centre of this, they built the brand DLP, Digital Light Processor. In their pursuit to be in all areas of projection TI launched DLP Pico, which enables the building of handheld projectors.
Optomo claim that their TI DLP Pico-based projector is the World's first for that chipset. Weighing it at four-ounces and apparently pocket-sized — they compare its size to a smartphone — they expect it to be used with mobile devices, like phones, to be "the next step in sharing visual media for today's ultra-mobile consumers," as Jon Grodem, director of Product Management for Optoma put it.
Anticipated availability is late 2008 for Europe and Asia, with the rest of the world seeing it in 2009.
To give you an idea, here's a video of _a_ handheld projector being demonstrated, we couldn't find any of the actual Optoma …