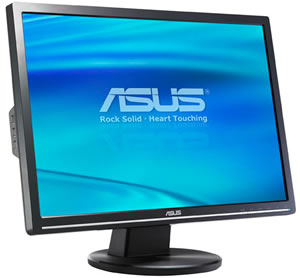 Asus has today released the first-ever DisplayLink certified monitor.
The 22-inch monitor, VW223B, uses the DisplayLink DL-160 chipset to connect to computers using USB2.0 and has a native 1680×1050 wide-screen resolution and a 3000:1 contrast ratio.
A 20″ model, the VW202B, will also be available in July.
What's DisplayLink?
If you're not familiar with DisplayLink, it enables additional monitors to be connected to computers using just a USB2.0 connection. It's a very cool idea that has the additional benefit of drawing the monitors power from the same lead.
DisplayLink lets a single computer run up to six monitors.
DisplayLink bigging up the idea of people having extra monitors attached to their machine, indeed they've got example of how they hope computer users will be adding extra monitors to their machines with gay abandon.