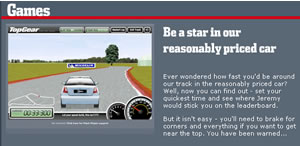 The BBC is to continue to open up paths to make money from it's car TV programme, Top Gear, via its commercial wing, BBC Worldwide.
They'll be creating the official Top Gear: The Mobile Game in partnership with Gameloft who specialise in producing games for mobile phones.
It appears the main thrust of the game will be to let players zoom cars around the 'infamous Top Gear test track,' so they too can attain their own personal power lap board.
Alongside this there will be "ambitious challenges and races."
They also say that the game will "allow gamers to attempt ambitious Top Gear style stunts like those seen on the TV programme." The horrific crash by Top Gear presenter Richard Hammond instantly springs to mind, but we're pretty sure that even the pursuit of making money will stop short of that.
Release date for the game is loosely described as later this year.
To have an idea of what Top Gear think of as good games, you can cast your beadies over the Flash games on their Web site