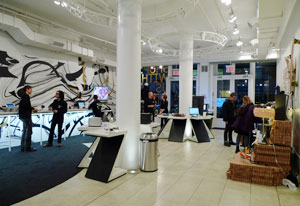 For computer nerds and technology freaks in New York, the place to be around Christmas was the excellent Wired Store in midtown Manhattan, which veritably bristled with the latest gadgets, gizmos and must-have widgets.
Now in its fourth year (we checked it out last year too), the store had moved from its downtown location to the Flatiron district, at 15W 18th St, and once again let visitors play around with piles of the latest technological releases.
We visited on a wet and cold December afternoon. It wasn't that busy, so it was easy to find staff to talk to, although many of them seemed preoccupied with filming everything that moved in the store (one of our party had a camera whirring all around her head while she tried to check out a device).
Peek Aqua Blue E-mail
We had a play with the Peek Aqua Blue E-mail device (hands on preview coming shortly), a rather unwieldy device for connecting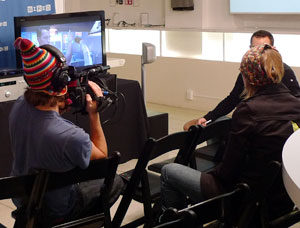 multiple devices for charging called The Sanctuary and felt throbbing pangs of envy as we cast our eyes on the LG 60″ 1080P plasma HDTV.
Blackberry Storm
There was a Blackberry Storm on demo, although most responses we heard were fairly negative, and the interface on the Samsung Instinct just irritated the hell out of us.
Creative Zen X-Fi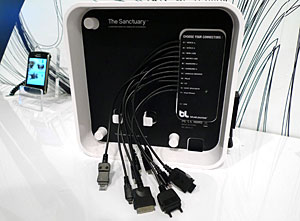 Elsewhere, one of our party had to have the Creative Zen X-Fi media player physically prised from her hands, such was the desire it generated. We had a play with it too, and were mighty impressed – it's a fantastic little device with a pleasingly intuitive interface that perhaps to grab the limelight as much as it iPod rivals.
HP Touchsmart IQ816 PC
The HP Touchsmart IQ816 PC with its icon-led touchscreen interface and colossal 25.5″ screen sure grabbed our attention, and although we loved waving graphics all over the screen, too many times we found ourselves having to pick up the mouse after being dumped back to plain old Windows. It's an interesting concept though, and we can see how such touchscreen PCs may become popular.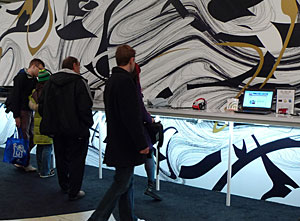 Canon G10
We also had another play on the Canon G10 digital compact camera, and were reminded why we preferred the Lumix LX3: the Canon may win on sheer pixel resolution, but it's a hefty beast that wouldn't even fit into MC Hammer's vast pockets.
Android G1
We were surprised to see no T-Mobile Android G1 phone on display, or any sign of the revolutionary Lumix Micro Four Thirds dSLR camera, also called the G1.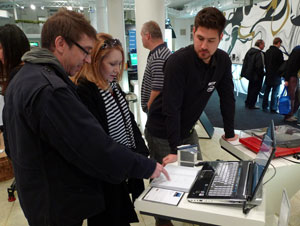 A Kids' section at the back showed off some of the latest toys for the young 'uns, but try as we might, we couldn't get the Pleo Robotic Dinosaur to spring into life.
You can view more information on the gadgets on show at the hideously slow and horribly fiddly Flash-tastic WiredStore website (the site is so clunky and unwieldy that any aspiring Flash designer should be forced to spend time on it to savour the 'experience' of how bad Flash can be).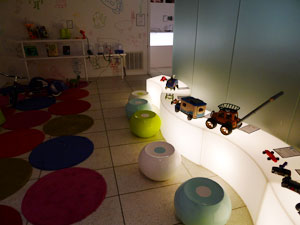 Wired Store
Manhattan/Flatiron
15 W 18th St
(between 5th Ave & Avenue Of The Americas)
New York, NY 10011
(212) 352-0800
WiredStore website
Wired Store, New York NY
Nearest Transit:
14th St-6th Aves (F, V, L, 1, 2, 3)
23rd St-Broadway (R, W)
23rd Street (PATH)