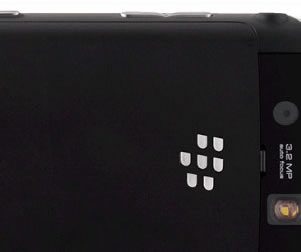 Over the weekend we had chance to play with Blackberry's first touchscreen model, the much-hyped Blackberry Storm.
The first impressions were very positive: the handset is a great size and feels very solid indeed. The back panel looked like it would survive a drop or two, and the battery door had none of that soon-break flimsiness seen on many phones.
The front of the Storm comes with four buttons to start/end calls, plus a back/Blackberry Menu, all of which felt reassuringly solid.
Clickable touchscreen
The big news with the Storm is of course its innovative clickable 4″ touchscreen and we found this a pleasure to type on, and certainly way superior to pushing your fingers around the iPhone's feedback-free slab of glass.
Using the screen, we soon found our typing speeds hitting a fair rate of knots – not quite up to a proper hardware QWERTY keyboard, but it's the best on-screen keyboard we've ever used.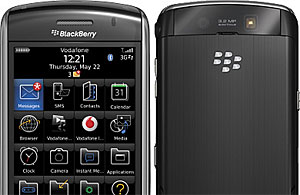 Good auto typing correction
We preferred the Storm's auto-correct to the iPhone's as it both anticipates what you're writing and offers to fix misspelled words when you've accidentally added a few letters.
The response seemed pretty nippy too, although we did suffer a couple of lags when opening programs. We can't declare ourselves fans of the all-black interface and frequently found ourselves feeling a bit lost when navigating around the Storm, although with time we'd probably get used to it.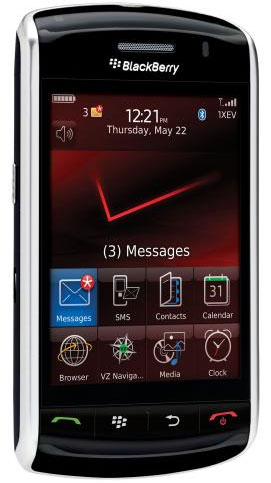 Good camera
The 3.2 MP auto-focus, camera with flash was a notch above average and took some excellent quality images. Video recording was sharp, and playback was impressive, as was the thunderous volume from the speakerphone.
There's a microSD slot onboard that supports up to 16 GB and the handset comes with dual microphone technology designed to improve your hearing and talking ability in loud areas.
The browser supports full HTML and although not quite as slick as the iPhone's, it's still up there with the best.
We didn't get chance to run the battery down, but at 1400mAh, the Storm should keep you going for a fair while. Call quality was good throughout.
In line with its high end consumer/business focus, the Storm is compatible with just about every network on the planet, offering Quad-Band 850/900/1800/1900MHz GSM/GPRS/EDGE, 2100 MHz UMTS/HSPA networks and Dual-Band 800/1900 MHz CDMA/EVDO Rev A networks.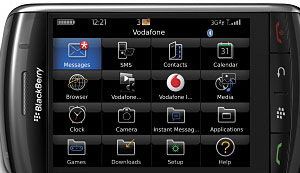 Verdict
All of our views are only after having the Storm in our hands for a short period. We hope to have it back in our hands for a more detailed look shortly.
With video recording, a far superior keyboard, cut and paste and Blackberry's legendary email support, this really could be the phone to challenge the iPhone, apart from one calamitous flaw: no Wi-Fi.
We've no idea why RIM decided to offer the phone without Wi-Fi but we expect it may be a disastrous omission for many.
If you can live without Wi-Fi and like to do a lot of typing, then the Storm could be the perfect choice for you, although the initial pricing plans sure look a tad steep to our eyes.
Our scores
Ease of use: 80%
Build: 90%
Features: 78%
Voice quality: 88%
Value for money: 80%
Overall: 83%
Read more about the Blackberry Storm here: BlackBerry Storm hands on: Review of reviews