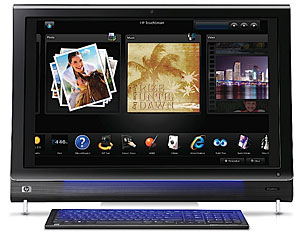 Looking snazzy and ready for your fingers to start smudging all over their vast touchscreens are the new HP TouchSmart IQ800 series of all-in-one PCs.
Following on from their recent TouchSmart IQ500 model, the update packs in a larger hard drive, extra memory to the graphics card, a Pocket Media Drive slot, wireless keyboard, premium speakers, tweaked software and a ginormous 25.5in touchscreen supporting a Full HD capable 1,920 x 1,200 pixels resolution.
The multitouch interface certainly looks interesting, with big finger-friendly graphics and a scrolling app bar reminding us a tad of HTC's Touch mobile screens (and the iPhone too). The interface runs on top of Vista, and HP have said that they will be providing a dedicated support service for customers having trouble getting to grips with the new fangled touchscreen interface.
The TouchSmart IQ804 and IQ816s make up the new range, with both coming with dedicated TouchSmart software, a TV tuner with remote, integrated webcam with options to leave video messages for family or uploading footage direct to YouTube, and a keyboard-illuminating ambient coloured light to help you hit that late night deadline.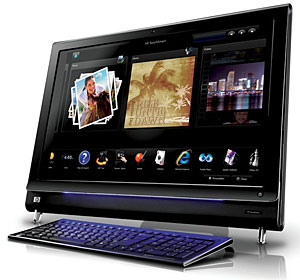 Touch-sensitive buttons along the edges let you change volume and access the TouchSmart GUI, and there's USB and Firewire ports for hooking up peripherals, plus a multicard reader. More ports lurk out of sight underneath a cover on the rear of the PC.
The IQ804 comes with a 2.16GHz T5850 Core 2 Duo on a 667MHz bus with 2MB of cache while the IQ816 rolls along on a 2.10GHz T8100 Core 2 Duo on a 800MHz bus with a 3MB cache.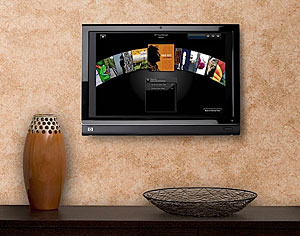 In line with its bigger price, the IQ816 rocks a slot-loading Blu-ray drive/dual-layer burner and replaces the the IQ804's GeForce 9300M GS graphics card with a beefier GeForce 9600M GS chip.
The IQ804 should be unleashed onto the streets of America on September 21st with a $1,899 price tag, while the IQ816 will dent your wallet to the tune of $2,099 when it shuffles into the light on October 12.
The new model will be available in the UK in November. We're still waiting for pricing, but expect your wallet to start lightening to the tune of £1.500 upwards.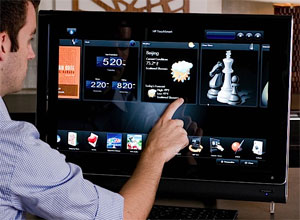 We say
We're definitely digging the look of these new living-room friendly PCs. The massive 25.5″ screen makes watching movies a viable proposition and the touchscreen means you won't have to keep looking down the back of the sofa to find the mouse.
The wall mounted option is nice touch and we like the touch friendly interface which seems simple and intuitive.