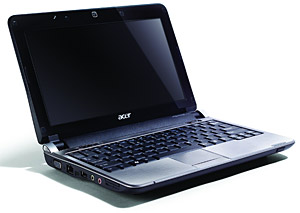 Acer has announced details of its stylish new 10in Aspire One netbook, due to go on sale next month.
The specs look pretty good, with the Aspire packing the now-standard 1.6GHz Atom N270 processor, 1GB RAM backed up by a sizeable 160GB hard disk and a widescreen 1,024 x 600 pixel display
There's 802.11bg Wi-Fi on board with Acer listing WiMAX as an optional extra, although this may never make it to UK versions. An Acer spokesperson explained that there was no chance of WiMAX appearing at the product launch and it would only appear, "as and when coverage appears."
Although the price is keen at £299 inc VAT, the battery looks to disappoint, with Acer only including a three-cell battery which the company estimates will serve up around three hours of juice.
When it comes to netbooks, we view a long battery life of paramount importance, one of the reasons that saw the Asus Eee 901 PC score so highly in our recent quest for the ultimate netbook.
(Check out Techradar's new netbook supertest for further information on current models).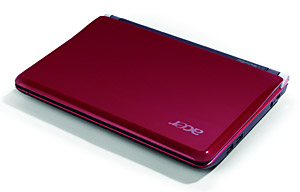 Intriguingly, Acer also lists WiMAX as an optional extra, but it's debatable whether this will be available in the UK. "It certainly won't be at launch," an Acer spokesperson told us, "only as and when coverage appears."
However, a 3G version is expected to arrive a month after the initial launch and will be offered independent of carriers, letting users slap in any network's data SIM.
We liked the look of the original Aspire One, and the new version seems up to the same standard, with the netbook coming in four high-gloss colour options; white, blue, red and black.
The Acer is set to go head to head with Samsung's highly rated NC10 netbook, and enjoys the advantage of being slightly slimmer, although it weighs a tad more.
The 10 inch Acer Aspire One is expected to hit the shops around mid-February.