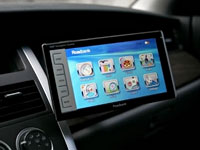 Hyundai Telematic Korea have announced their way-posh Roadbank HTMS 18800 DMB navigator, an ultra slim, in-car navigation system with a hefty 7 inch touch screen.
Although only available in Korea (bah!), this little puppy should hopefully be paving the way for a new generation of multimedia navigation gadgets that will eventually get into the hot little paws of us technology starved Euro-types.
Back to the HTMS 18800, the unit comes with an electronic map which offers a realistic view of the roads and buildings as you cruise by, with an embedded Sirf III GPS module offering top notch GPS reception rate.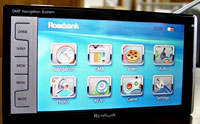 As well as offering navigation tools, the Roadbank comes stuffed with multimedia widgets, doubling up as a high end media console with support for movie playback formats like WMV9, MPEG-1/2/4, DivX, Xvi and H.264. It can also display digital photos too.
There's a music player in there as well offering MP3 support, and if all that wasn't enough, the thing can play live TV using T-DMB.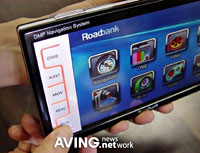 The Roadbank HTMS 18800 DMB runs on Windows CE 5.0 and comes with 64 MB of Nand Flash with a SD card slot providing memory expansion options.
As we said, it's a Korea-only release, so we'll have make do with an iPod, a compass and some Ordnance Survey maps in the meantime. Aving.net