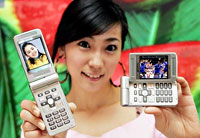 More flexible than a Russian athlete in a vat of oil, Samsung's double-flipping DMB phone offers a novel twist on the clamshell format.
Naturally, we're talking about a Korea-only release at the moment, but Samsung's SPH-B1300 looks an interesting number serving up a DMB handset that flips two ways. A bi-flip-sexual, if you will.
The Samsung can function like a regular clamshell phone, with the colour display viewed in portrait orientation, or, with a clever bit of flipology, the screen can shuffle around into a landscape format – ideal for watching TV and videos.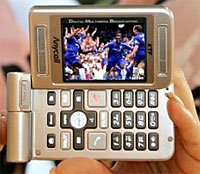 As well as the DMB functionality, the Samsung SPH-B1300 serves up the usual advanced mobile feature set, complete with a two megapixel digital camera and built-in MP3 player.
It looks like the handset will be taken up by KTF in Korea (DMB is huge in Samsung's home country), although those waiting for a UK release may be in for a very, very, very long wait (think, "eternity").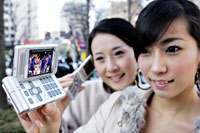 We can expect more details about the Samsung SPH-B1300 to be revealed at the CeBit 2006 show in Hannover next month.
Glossary:
DMB (Digital Multimedia Broadcasting) is a digital transmission system for sending data, radio and TV to mobile devices such as mobile phones.
Operating via satellite (S-DMB) or terrestrial (T-DMB) transmission, DMB is based on the Eureka 147 DAB standard and shares similarities with the competing mobile TV standard DVB-H.