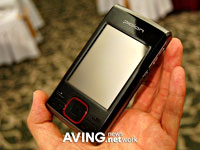 No relation to the fabulous football team known as the Bluebirds, the Korean electronics company Blue Bird have announced their shiny new BM-300 T-DMB Personal Digital Assistant (PDA).
A slim and sleek affair, the PDA is kitted out in an all-black finish with a red strip running around the traditional 5-way D-controller.
Running on Windows Mobile 5.0, the big news for this PDA is its support for T-DMB – that's Terrestrial Digital Multimedia Broadcasting donchaknow – which lets perambulating punters tune into digital TV when they're out and about.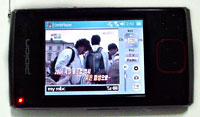 Although the 2.8 inch touchscreen TFT-LCD (QVGA) display looks like a bit of a whopper, it can only support a miserly 240 x 320 pixel resolution -a bit of a disappointment for a PDA and hardly likely to enhance the TV watching experience,
Looking inside the gubbins of the unit, we can see that the BM-330 is powered by a nippy Intel Bulverde CPU, purring along at 520 MHz with 64MB RAM and 128MB ROM onboard memory.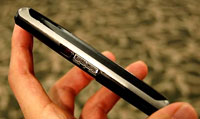 Memory can be further expanded via an SD SDIO card slot.
Although the lack of a built in phone has seriously piqued our interest, there's still a few connectivity options on board, with WLAN 802.11b/g, Bluetooth (v1.2 Class2), USB, and – if we're not mistaken – IR.
The BM-300 is a pretty pocketable affair, measuring up at 110 x 60 x 13.8 (mm) and it's scheduled to be released in Korea during October 2006, with – as usual – no news on a European/US release or pricing.