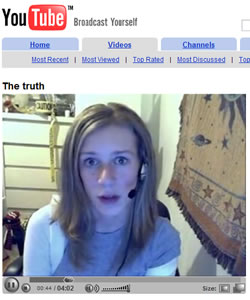 OK, you're used to us breaking news here, but here's one that slipped through without us noticing. We think it's sufficiently important for us to swallow our pride and report it anyway.
In an inevitable move, an LA production company, Carson Daly Prods, has signed talent/development deal with Brooke "Brookers" Brodack, who has made quite a name for herself on YouTube. We're sure you do, but just in case you don't know what YouTube is, it's a phenomenally popular Web site that holds videos watched at the rate of about 40m per day.
While it is predictable (yes, we're surprised this type of deal hasn't happened sooner too), it doesn't make it any less significant. What was previously known as 'the entertainment industry' (music, films, tv, etc) has been very slow on the uptake to even notice that the 'people' have been madly creating their own entertainment and sharing it online. It finally looks like they've started to notice … and not only that, but guess what? It's a pool of cheap talent to plunder, one without agents and prima-donna salaries and demands. That should get them listening.
Brookers, as she's known as by tens of millions of YouTube viewers has been posting videos for about nine months, mostly featuring her doing pieces to camera, often miming to sound tracks.
The one that brought her to wide attention was her homage to Gary Brolsma's Numa Numa.
It's clear that Brookers has gone a number of steps beyond just plonking herself in front of her Web cam (as many homages do), they're more of a production, using changing camera angles and locations.
Of course it's not all about TV deals, realising the size of her audience, she's recently posted an entry asking for people to donate to her car fund. Very cheeky.
How many people will continue to be able to show their talent like this in the future isn't clear as various music industry voices have been talking about stopping 'their music' in personal videos. Strange – we thought it actually promoted the music.