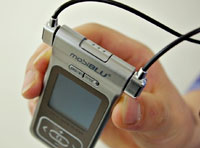 We're getting very excited by what we've seen of mobiBLU's new ultra, ultra-slim US2 media player.
Sporting an unusual – and rather fiddly, to our eyes – necklace design (where the headphones are routed through the neck cord), the US2 packs a ton of functionality into its lard-free form factor.
Clad in a silver/grey metallic finish, the 7mm thick phone features a RAZR-style flat function pad controlling volume up/down, track skip and play/pause, with a 1.5-inch OLED colour display above.
Naturally, MP3 file support comes as standard, although we've no idea what other music formats are playable on the machine yet.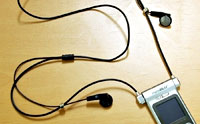 Similarly, we've no details about the specifics of the advertised "Audio, Video, Photo support," but we can guess that it plays back MPEG4 files and can display JPEGs.
We couldn't see a camera on the thing though, but we can tell you that it comes with built-in FM Tuner and recording, supported by SRS WOW Audio Processing onboard, activated by a small switch near the top of the device.
The mobiBLU US2 is set to be released in 1GB, 2GB, and 4GB flash memory flavours with a scheduled August 2006 release for Korea.