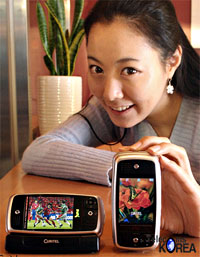 In a feast of digital convergence, Pantech & Curitel have announced the launch of their new multimedia-tastic PT-S160 phone.
We're not sure of all the details (we're helplessly fumbling around deep in foreign translations here), but the beefy-sized phone looks to be a good example of where digital convergence might be taking us.
With the technology letting mobile users watch terrestrial DMB TV and simultaneously natter away on their phones, Digital multimedia broadcasting could be one of the soarway hits of 2006.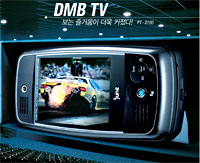 The PT-S160 doubles up as a PMP (Portable Multimedia Player) and a satellite DMB receiver, with a sliding design only showing keys for DMB functions when closed.
Lurking underneath is the slide out keyboard with all the necessary keys for making calls.
The unit comes with stereo '3D live sound 'speakers on the front side of the body with TV pictures viewed on a 2.4 inch 260k QVGA LCD (320×240) screen.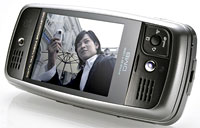 The screen can be switched between landscape and portrait formats.
Also onboard is an MP3 player, a 2 megapixel auto focus camera, T-flash memory slot and TV Out.
With the unit measuring 52.4x 107.5x 22.5 mm and weighing 139g, it's a bit of a pocket bulger, but still pretty amazingly small considering the technology you're getting.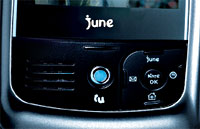 The makers claim a talk time of 300 minutes and a hefty standby time of 300 hours (although we've no idea how long you'll get when watching TV).
As ever, there's no detail of when this product may be available in the UK, but we can dream.