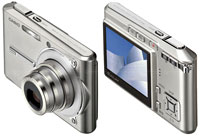 Casio have announced the European release of their super-slim 6 megapixel camera featuring an 'Anti Shake' DSP and MPEG-4 movie recording.
Thinner than a supermodel on a crash diet (just 16.1 mm thick), the S600 comes with a retracting 3x optical zoom, superfast shutter release (0.007 second) and high-speed picture playback of approx 0.1 seconds interval.
Casio is making a big noise about the EX-S600's ability to reduce camera shake when recording quality MPEG-4 movies through its EXILIM engine's Anti Shake DSP (digital signal processor).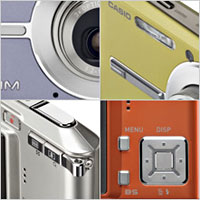 As the name suggests, its not a proper mechanical anti-shake gizmo – instead, the camera employs high ISO1600 sensitivity plus a faster shutter speed to minimize image blur.
The camera can record MPEG-4, VGA (640×480 pixels) video at 30 frames/second, with a 'normal' mode, letting users capture up to one hour of movies on a 1GB SD memory card.
Point'n'shooters will like the "Quick Shutter" function which provides simple and easy high-speed focusing, with 34 different "BESTSHOT" settings taking care of scene settings.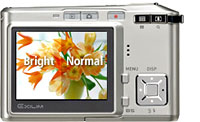 An improved battery allows up to 300 shots per battery charge, with the 2.2 inch LCD being "twice as bright" as previous models.
For charging up the camera, transferring images or connecting to a TV, the EX-S600 is plonked on its supplied multi cradle.
The cameras are available in a range of colours which the designers insist should be known as "Sparkle Silver", "Mistral Blue" and "Latin Orange."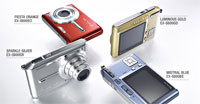 It's taken some considerable time for the Casio S600 to reach Europe – it's been available in Japan since October 2005 – but you should be able to pick it on the High Street for around £230 (~€335, ~$406).