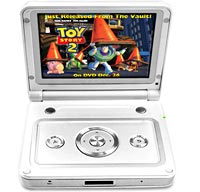 It might look like a run-of-the-mill Gameboy Advance SP, but the TAVI Portable Media Player packs a much mightier multimedia punch, with the wee fella letting you watch movies, playback music, look at your photos, listen to FM radio, read eBooks and record your own voice.
Weighing just 8.9 ounces and measuring a pocket-pleasing 3.6″ x 3.2″ x 0.97″, the TAVI manages to pack a 320×240 pixel 16.7 million colour LCD display, USB 2.0 support and a hefty 20GB hard drive into its diminutive clamshell design
Video support comes in the shape of Divx 3.11/4/5, XviD, and MPEG1/2/4 format, playable up to 720×560 pixels at 30fps at an impressive 8Mbps bitrate, with JPEG and BMP photo formats supported.

Audio support is pretty generous too, with the unit offering MP3, WMA, OGG, AC3 and AAC playback.
There's a pair of 'virtual 3D surround stereo speakers' built in, although the tiny size of the things suggest that bass is going to be very thin on the ground.
Battery life is claimed at a respectable 10 hours for audio and 5 hours for video playback – long enough for two ordinary movies or maybe half of an Eastern European arthouse film.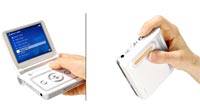 There's also a built in FM radio and mic, line-in recording (audio only) and TXT reader support.
TAVI claims that the unit can be connected to a home theatre system and provide 1080i Hi-Def quality video output with digital 5.1 surround sound, "without the slightest compromise in clarity" – an impressive achievement indeed.
If you're in the US, the TAVI 20 GB Portable Multimedia Center have just landed on WalMart's expansive shelves with a retail price of $499.73 (~£280, ~€410), which seems something of a bargain – if the player delivers on its promises, of course.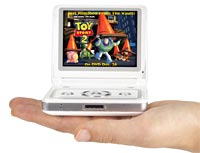 SPECIFICATIONS
VIDEO
LCD Display: 3.5-inch TFT LCD, 320 X 240 pixels, 16.7 Million Colors
File Formats: up to 720×480 pixels, 30 f/s, 8Mbps Bitrate
Divx 3.11 / 4 / 5, XviD, MPEG1 (VCD), MPEG2 (DVD),MPEG4 (WMV and ASF: transcoding software)
Bookmark / Resume Function / Video Subtitles
AUDIO
File Formats: MP3, WMA, Ogg Vorbis, AC3, AAC
Audio Out: Stereo, Optical 5.1 Channel Surround Sound
VOICE RECODER
Recording (Direct Encoding: MP3 (via 64 / 128kbps Bitrate)
Recording Source: Voice (Built-in Mic.), FM Radio (Direct), Line-in (External Mic.)
FM RADIO
FM Frequency Range: 76Mhz-108Mhz (Global / International FM Ready)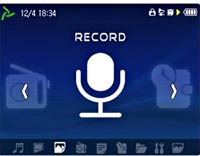 PHOTOS & eBOOKS
File Formats: JPG, BMP, Text, etc
Preview / Slideshow / Image Rotation / Meta Info Display
ADDITIONAL FEATURES
Alarm Clock
Custom Background Image
Background Music: Play Music with Photos, eBooks and more
File Management: Move / Copy / Delete / Rename / Create files and folders
USB 2.0 high speed and USB 1.1 Host
3D SOUND
Built-in Stereo Speakers with Virtual 3D Sound
EQ: 27 Preset Modes (Including Virtual 3D Sound) Plus Custom Settings
External Video Output
PAL & NTSC
Composite Video / Component Video (480p, 720p, 1080i), S-Video /w cradle
Smart Power Technology
Smart Brightness: Automatic LCD brightness with a sensor
Sleep timer control, Automatic system off, Automatic LCD off,
Intelligent HDD sleep mode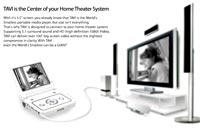 POWER
Built-in Rechargeable Lithium Ion Battery
Playback Time:
– Music up to 10 hours ( LCD off, 128kbps mp3 Play, Earphone out)
– Video Up to 6 hours ( 320 X 240, 30frame)
Charge time:
– Quick: about 3.5 hours (charges up to 80% of battery capacity)
– Full: about 4.5 hours
Adapter:
– AC in: 100V to 240V
– DC out: 5V, 2A
SYSTEM REQUIREMENTS
Microsoft Windows XP / 2000 / ME / 98SE, Mac OS, Linux