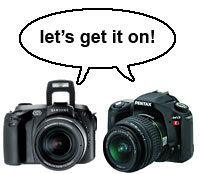 Way back in October last year we reported that Samsung was cuddling up in bed with Pentax to make Digital SLRs, and the fruit of their digital loins has been announced today, the Samsung GX-1S.
Photographers hoping for a cutting edge, innovatory collaboration will be disappointed as the GX-1S is simply a rebadged Pentax *ist DS2, with a few new Schneider lenses lobbed in (although they appear to be smple re-badge/tweaked jobs too).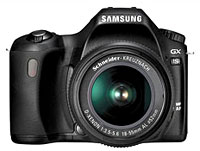 Still, it's a very capable camera, offering a 6 megapixel sensor, 2.5-inch screen (210K pixels), expansive ISO range from 200 to 3200, a host of shooting modes and a Pentax AF lens mount.
The camera's compact and lightweight (505 grams) design should make it tempting to travellers, with the Schneider Kreuznach D-Xenon lens system offers compatibility with Pentax's extensive catalogue of KAF bayonet mount lens.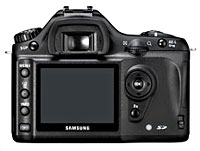 Although some may not see the point in Samsung announcing what amounts to an already released product under a different name, there are clear benefits for both companies.
Pentax need to sell the *ist DS2 in greater volumes and what better way to do that than get the globe-spanning corporate might of Samsung onboard?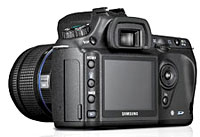 With more units shifted, Pentax benefit from lower production costs, increased sales and a greatly increased user base for their lenses and their system, thus ensuring the future of its system.
For Samsung, the benefits are equally clear cut, as they get to make an immediate mark on the burgeoning dSLR market by releasing a capable, well-reviewed camera while working on new joint designs with Pentax.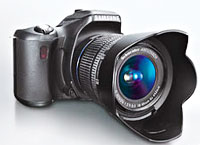 Then there's the awesome might of Samsung's marketing budget to consider, with some suspecting that the new camera will be sold as a "loss leader" to help establish the brand.
All this fits in with Samsung's stated aim to become a world class digital camera manufacturer, with its growing ambitions reflected in the recent release of their high-end, prosumer Pro815 digicam.
SPECIFICATIONS:
Sensor: 23.5mm x 15.7mm CCD, 6.3 million pixels
Image sizes: 3008 x 2000, 2400 x 1600, 1536 x 1024
File formats: RAW (12-bit), JPEG (EXIF 2.21) – 3 levels
Lenses: Schneider D-XENON, Pentax KAF2, KAF, KA mount lenses
Power zoom not available
K mount lenses available with (function limited)
S mount lenses available with adapter (function limited)
67/645 lenses available with adapter (function limited)
Focus: 11-area AF, TTL Phase matching AF system, Focus point selectable
Focus modes: AF-Single, AF-Continuous (Action mode), Manual focus
Shooting modes: AUTO Scene, Portrait, Flash off, Program AE, Shutter Priority AE, Aperture Priority AE, Manual, Bulb
Scene (SCN) modes: Normal, Portrait, Landscape, Macro, Moving Object, Night scene
Metering: 16-segment, Center-Weighted Average, Spot
ISO sensitivity: Auto, ISO 200-3200
Shuttter speed: 30 to 1/4000 sec, Bulb
Shutter x-sync 1/180 sec
Flash: • Built-in P-TTL pop-up flash, Guide number 15.6 (ISO 200/m), Flash sync 1/180 sec
Power: 4 x AA batteries or 2 x CR-V3
Weight: (no batt/lens) 505 g (1.1 lb), (no lens) 605 g (1.3 lb)
Dimensions 125 x 93 x 66 mm (4.9 x 3.6 x 2.6 in)