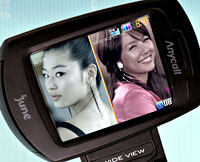 Yet more proof that Koreans are spoilt rotten when it comes to having the very latest must-have mobile gadgets comes in the form of Samsung's brand new phone – displayed, as ever, by scantily clad models.
OK, the Samsung looks a bit weird with its ET-like swivelling head, but – check out this out – not only does it boast Digital Multimedia Broadcasting (DMB), but it's got Picture in Picture too!
Perfect for those with an attention span that can only be measured in milliseconds, the SCH-B470 lets TV-mad users view two channels at the same time via a split screen, just like your big TV at home.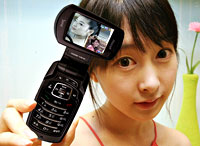 The chunky black clamshell phone also lets users switch between having a small Picture in Picture (PiP) display showing the secondary channel or splitting the display in half, with the two selected channels sharing the total viewing area.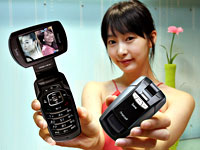 Naturally, users can also elect to fill the screen with just the one channel for fuddy-duddy, old-school types who are satisfied with just one channel playing simultaneously.
It's not all endless fun for tech-savvy Koreans though, as there's only twelve S-DMB channels currently available.
More features
As well as the way cool PiP TV modes, the SCH-B470 comes with a swivelling 2 megapixel camera, an MP3 player, a flip out and rotate 2.2-inch LCD screen and some sort of 'pet' game to entertain users when there's nowt on the telly.
With all that cutting edge technology stuffed inside, it's no surprise that the phone comes with a hefty price tag, expected to hover around the 700,000 KRW ($728, £384) mark.