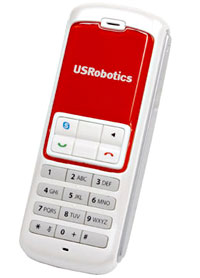 USRobotics has rolled out two new Skype Certified handsets, the oh-so-catchily named USR9601 USB Internet Phone and the seductively monikered USR9602 USB Internet Mini Phone.
Both phones plug into an available USB port and integrate with the Skype desktop application to provide "easy voice communications" to the Skype community.
According to USRobotics, the phones come with technology enhancements designed to get rid of the annoying echoes that plagued earlier handsets and banish the 'orrible "tunnel" sound suffered on cheapo handsets.
Both phones – neither of which are lookers – come with an integrated keypad letting VoIPers make calls to Skype contacts via assigned speed dial numbers, or to dial telephones anywhere in the world with SkypeOut.
The more expensive of the two phones, the £30 ($49.95) USR809601 offers a high-resolution, blue back-lit LCD screen for contact information and call status, while the entry level ($24.95, £13) USR9602 USB Internet Mini hasn't a single LCD pixel to its name.
"Our collaboration with USRobotics provides the growing Skype community with high quality, affordable Skype devices that make Internet communications easy whether you're at home or in the office," hyped Manrique Brenes, director of hardware for Skype.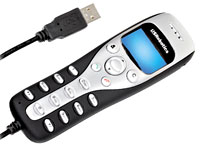 "USRobotics and Skype are committed to enabling the world's conversations; these new USB Internet phones are a great example of our shared vision," Brenes added, while we pondered over how one gets a job as an "enabler of world conversations."
USRobotics USB Internet Phone USR9601A Specifications
Plug-and-Play for auto installation
Echo cancellation and noise reduction technology
Supports full-duplex communication
Dialed and incoming number memory
USB
Supports USB 1.1 and 2.0 ports
USB Powered (no external power supply needed)
USB Port: A-type interface, Universal Serial Bus Specification, Revision 1.1
Dot matrix LCD Screen: Time and date, Caller ID, Call states and duration
Dimensions/Weight
USB Phone
5.9 x 1.75 x .8 in / 15 x 4.45 x 2.03 cm
0.44 lb / .2 kg
Handset Functionality
Blue back-lit display
Echo cancellation, noise reduction
Dial Skype contacts (Speed Dial)
Dial Skype-Out numbers using phone keypad
Place calls on hold and mute calls
LCD State Indications: Skype online, Skype offline & missed calls
Selectable ring tones
Minimum System Requirements
400 MHz Pentium II IBM compatible PC with 128 MB RAM and 5 MB free hard disk space (or higher)
Available USB port or a USB hub with external power supply
Windows XP/2000 or Macintosh X or higher
USRobotics USB Internet Mini Phone USR9602 Specifications
HiFi Voice technology
Plug-and-Play
Echo cancellation and noise reduction technology
Supports full-duplex communication
USB
Supports USB 1.1 and 2.0 ports
USB Powered (no external power supply needed)
USB Port: Mini-USB type B female on handset
Mini-USB type A-to-USB type A cable, 2.5 m
Universal Serial Bus Specification, Revision 1.1
Dimensions/Weight
USB Internet Mini Phone
5.9 x 1.75 x .8 in / 15 x 4.45 x 2.03 cm
0.44 lb / .2 kg
Handset Functionality
Control Skype contact list, history scrolling, utility activations, and tabs switching
LED Indicator: Off – handset idle, Blinking – Incoming Skype call, Slow Blinking – Handset microphone is muted
Echo cancellation, noise reduction
Dial Skype contacts (Speed Dial)
Dial Skype-Out numbers using phone keypad
One button call pick-up, hang-up, mute and hold
Speaker volume adjustment
Buzzer/Ring tone selection
Minimum System Requirements
400 MHz Pentium II IBM compatible PC with 128 MB RAM and 5 MB free hard disk space (or higher)
Available USB port or a USB hub with external power supply
Windows XP/2000