One of our limited number of gripes (thinking about it, it was the only one) we had with the Polycom Communicator was that it was only supported on the Windows platform.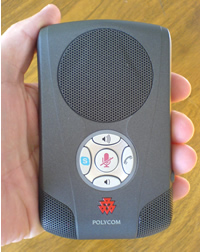 We mourned the lack of Mac and Linux support. Given that all Polycom needed to do was write a driver or two to get it running, we were disappointed that there was no movement on this yesterday.
We got in contact with a Little Bird that's connected to the company, and after some goading, we heard that Polycom _are_ working on the missing USB drivers. They came close to assuring us that the Mac support should be available this year. There was a lot less certainty about the Linux support.
We want to stress that there's no official word on this as yet, but we've got reasonably high confidence in our source.
Vista Stinks
A point of interest. When we tried to install the Communicator on Windows Vista we found that there wasn't a driver available for Vista as yet (frankly not a unique outcome with Vista).