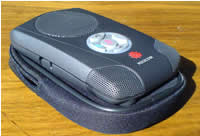 The Polycom Communicator (C100S) first caught our eye at the Skype-day in London. It's a well-formed handsfree speaker/mic kit that connects to your PC via USB, letting you make trouble-free calls on Skype.
Polycom aren't new to the field of handsfree. You may well have used their SoundStation in telephone conferences. They've leveraged this experience to tune the Communicator to minimise feedback.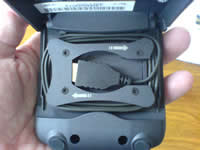 What's it like to use
Getting it setup is breeze. When you've carried out the one-off process of installing the small piece of software on to the PC and authorised to allow it to work with Skype, you're away.
We found it very easy to use, not only that, but were highly impressed with its performance.
Conversations flow more naturally, as if you were in the same room as the person, because you're not holding a phone handset. The extra auto-echo-cancellation that has been built into it, also lets you use it without the other party realising.
For those who are keen on secrecy, there's a standard 3.5cm headphone socket in the right by the mic.
When you're travelling and need to make a series of calls from your hotel room, the Communicator will be a boon. Forget using the cellular with an ear piece, this lets you sit in your hotel room and make your calls while taking advantage of Skype's low-cost calling too.
The Communicator also has a life beyond Skype calls. Due to its high quality speaker, it's great to use to play your music through, or use during a presentation with audio in it. A great advantage.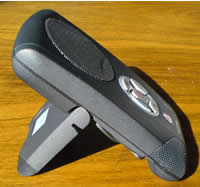 Design
It's a well designed solid piece of kit that's had a lot of thought put into it. This is amply demonstrated by its surface-finish (which comes in either blue or grey), which just through its touch gives you confidence in it.
With its size being similar to two packs of cards sitting next to each other (3.24″ x 5.25″ x 0.85″/ 85 cm x 135cm x 25 cm), you would have no hesitation in chucking it in to your bag when you're on a business trip.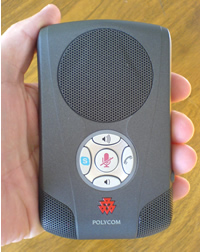 The centre-top is dominated by a high quality (22 KHz) speaker, with twin microphones on either side of the bottom front corners. This not only gives excellent sound reproduction (actually beyond Skype 16KHz capabilities), but the dual mics make it easy for many people around a table to take part in the conversation. The microphones are independently balanced, so a person sitting a distance away from one would not be drowned out by another sitting close to the other.
The middle section of the unit has a collection of five buttons arranged within a circle. On the left is a blue Skype-logo's button, that when pressed, makes the Skype software on your PC become active. The button on the opposite side of the circle connects and disconnects calls. Volume controls are at the top and the bottom, with a mute button in the centre.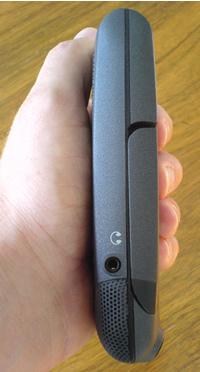 Around these buttons is a circular LED that gives progress on the call – it flashes green when connecting the call, glows green when on a call and red when the conversation is muted.
The back is hinged to provide two features – holding the 79 cm (33″) long USB lead that wraps around the back, and to act as a stand for the unit when it's in use. Like the rest of the unit, it too, has a reassuringly-solid feel about it, with a hinge that feels like it will last.
The intelligent design touches continues on this flapped hinge with its rubber corners, minimising movement where it rests against the table.
Summary
A great, quality device that works easily and well, providing you with a better way of making Skype calls.
Score: 83%
Ups
Great quality calls on Skype Superb speaker for music-listening Well designed and compact
Downs
No Mac or Linux support yet
Cost
US RRP $149
Buy it at Amazon UK (Blue)