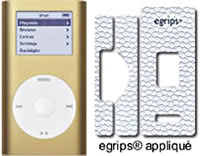 Are you the owner of a pair of super slippery hands that seem unable to keep a firm grip on your mobile or PDA?
Or are you one of those people who like to multitask when you're running around the office but have found the shiny surface of your phone a little too slippery on occasion – sometimes with disastrous results? (we know of at least two people who have managed to drop their phones down toilets).
If this sounds like you, then you may be interested in investing in some Egrips Appliques.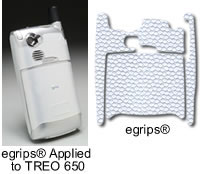 We're not sure what the Frenchy-sounding name is all about, but the company offers a range of protective stick-on covers for a wide selection of electronic devices such as cell phones, PDAs, digital cameras, iPods, MP3 players, gaming devices etc.
Like many of the best ideas, it's a simple one: simply stick on a pre-cut set of protective silicone grips on to your device and the thing should become much more 'sticky' and less likely to end up on the floor, under your brake pedal or floating in your karsey.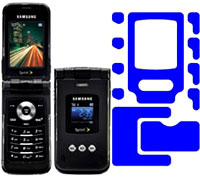 Made from a super thin material, the makers claim that the "specially formulated adhesive" won't damage your precious gadget while the super-grippy material will prevent it from, "sliding around on dry surfaces, like car seats, centre consoles, counter tops, desktops, laptops and more."
The grips are reasonably priced around the $10-$12 mark and are available from the egrips website.