As you may remember, we at Digital-Lifestyles are big fans of the Polycom Communicator. It's a well made USB-addon for Skype that lets you carry out clear, hands-free conversation over Skype – it also doubles as a quality speaker to listen to music when travelling.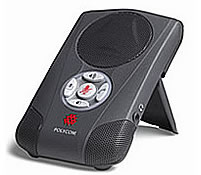 Polycom have announced that they're going to support more VoIP software than just Skype on the current Polycom Communicator C100S and bring out a non-Skype version of it too, subtlety called the C100 (no S). The outside of the C100 only differs by not having a (S) Skype button on the left of the cluster in the middle.
The newly supported VoIP packages are scheduled in two lumps – CounterPath's eyeBeam and X-Lite IP soft phones and the Polycom PVX PC-based desktop video conferencing application, becoming available in April this year and BroadSoft's BroadWorks Communicator IP soft phone anticipated in July.
Current owners of the C100S will be able to download software drivers to enable support.
The Polycom Communicator C100 is scheduled for worldwide availability in April, with a suggested retail price of $149, 124 Euros, £84.