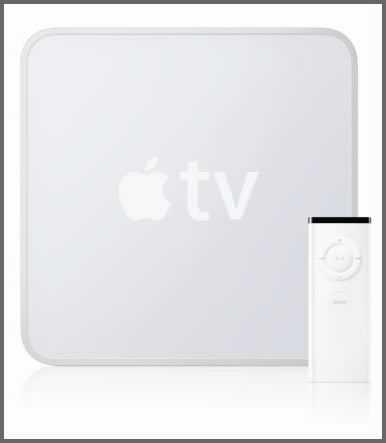 After weeks of speculation and one official delay by Apple last month, Apple has now announced that they are shipping the Apple TV unit from today.
From its name, you'll guess that it's an Apple unit to be connected directly to a TV, giving the chance to listen and watch content via the iTunes software. The WSJ, who have had it for the last 10 days, is reporting that the unit can only be used with Widescreen TVs, as there isn't support for 4:3 screens – a surprising limitation. They also report another limitation – the screen can only be connected to the Apple TV via HDMI cables or component jacks.
To get the most out of it, the diminutive Apple TV (it's only 8 inches square) cannot be used as a stand-alone unit, but must be used in conjunction with either a Mac running OSX, or a PC running XP – both of which need to be running iTunes 7.1 or later. The direct to Internet connectivity is currently very limited, only giving access to film trailers and the like.
(We wonder if the lack of support for Windows Vista is a deliberate move).
Related to that, we recently noticed when we installed iTunes on our latest PC, that it already has support for Apple TV built in to it in the Preference settings (see image).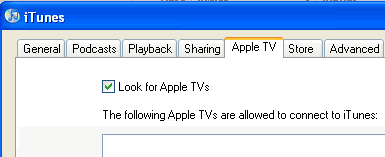 Getting around the different forms of content is done by the Apple Remote, so a keyboard/mouse combination is not required.
The content gets to the Apple TV via cabled-Ethernet, or WiFi, running at the yet-to-be-ratified 802.11n, which has a theoretical maximum speed of 540 Mbps.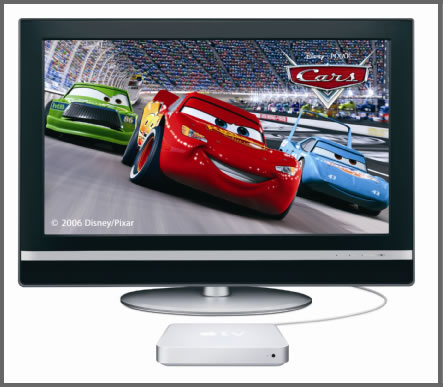 The unit has a 40Gb hard drive that Apple says can "store up to 50 hours of video, 9,000 songs, 25,000 photos or a combination of each and is capable of delivering high-definition 720p output."
It's with some amazement that we're seeing official Apple comments about a product coming from someone apart from The Steve, to that end Philip Schiller, Apple's senior vice president of Worldwide Product Marketing enthused that "Apple TV is like a DVD player for the Internet age—providing an easy and fun way to play all your favourite iTunes content from your PC or Mac on your widescreen TV."
Apple tell us that it's shipping from today, priced at £199 in the UK and $299 in the US.