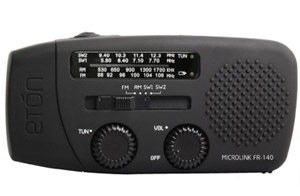 Looking rather natty in an all black, rubberised case, the Eton FR140 radio aims to be the perfect companion for deep forays into the countryside or as a handy take-everywhere travel gadget for the self sufficient.
More compact than most of its rivals at just 126 x 60 x 46mm and weighing 200g, the Eton is small enough to lob into your day bag with its toughened case providing some basic splashproofing. We doubt it would survive a tropical storm or an Arctic adventure, but it should be rugged enough to see you through a drunken post-pub stomp through the hillside bracken in light rain.
The functionality is impressive, with the device offering an AM/FM/SW portable radio (AM: 530-1710kHz, FM: 88-108Mhz, Shortwave: 5.8-7.7Mhz and 9.4-12.3Mhz), three-LED torch and mobile phone charger.
The side of the radio houses the tuning and volume dials, band selector switch and frequency scale, with a tuning and charging LED to the right. Considering its diminutive size, the Eton knocked out a decent enough sound and went fairly loud too, even if we could only get a series of squeaks and what sounded like a nude Turkish wrestling match out of the SW bands.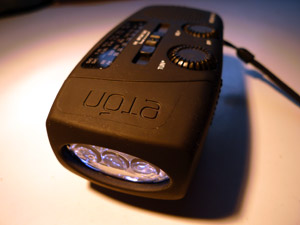 At the top of the unit can be found the torch on/off button – usefully big enough to be used with gloves on – with an extendable aerial at the back.
The FR140 can be charged via the top-mounted solar panel or by employing the fold out crank lever at the back. This offers a smooth and fairly quiet action and there's no denying that there's something rather satisfying about generating your own electricity when you're out in the wilds of, err, Brockwell Park in Brixton.
A quick five minute crank kept us powered up with enough juice to keep the radio running for half an hour or so, although the novelty of cranking up the device meant we never got a chance to run timed tests – friends kept wanting to have a go!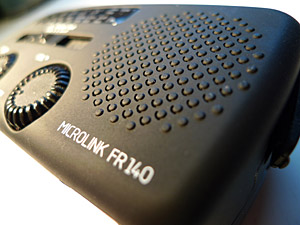 Suffice to say that you should be able to get a full day's radio usage and several hours of torch action for fairly little physical effort, while feeling smug in a Ray Mears kind of way.
Not surprisingly, the solar charger charged at a rather more stately pace, but it's a handy back up, even if the mid-winter weather was too bleak during our testing to get much of a charge going.
There's also a handy option to charge the built-in battery via a USB connection which was rather a nice touch (a full charge takes 8 hours). The USB port is on the rear of the radio, where the headphone out and phone charger jack can be found. The sockets were covered by a protective rubber seal, but ours didn't fit properly.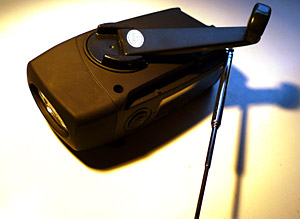 Phone charging
It's a bit of a different story when it comes to the mobile charger however. Eton bundle in a power lead with four adapters for hooking up to your mobile phone – Nokia 3.5mm jack, Mini USB, Samsung wide connector and Sony Ericsson narrow connector, with others available to fit other phones.
If you're looking to fully charge your cell phone from flat, you'll need the arms of a baboon and a few hours to spare, because you'll have to go faster than a spinning dervish on amphetamines to get anything more than the tiniest of charges off the thing.
After a solid ten minutes of sweat-inducing cranking, our phone's battery had only gone up a measly one per cent, but at least that's enough to make an emergency call if, like Bonnie Tyler, you find yourself lost in France, in love.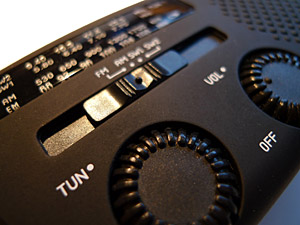 However, if you're planning on being away from civilisation for several days and need to use your phone, we wouldn't recommend relying on the Eton – instead take something a little less stressful, like the Proporta emergency charger or its smaller brother, the USB Micro charger.
Conclusion
We loved this gadget. Even if you're not interested in its green credentials, it's still a great self-powered, standalone torch radio with the bonus of a built in mobile charger. It was easy to use, well designed, sounded fine and felt like it could take a few knocks too. We can heartily recommend it as an ideal travel companion and at just £29, it's good value too.
Our verdict
Ease of use: 90%
Build: 84%
Looks: 88%
Value for money: 83%
Overall: 86%
Specs:
AM band (530-1710kHz)
FM band ( 88-108Mhz)
Shortwave band 1 ( 5.8-7.7Mhz)
Shortwave band 2 ( 9.4-12.3Mhz)
Built in hand crank generator
Built in re-chargeable NiMh battery pack
Built in 3 LED flashlight
Power source 1 (Solar power)
Power source 2 ( built in battery pack)
Power source 3 ( from USB port, cable NOT supplied)
Built in cell phone charger for most popular phones
Earphone jack – 3.5mm socket
Size – 126 x 60 x 46mm WHD
Weight – 200g
Included accessories, owners manual, warranty card, cell phone charging cord
Colours – will be available in Black or Green