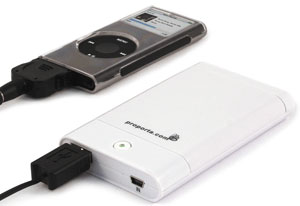 If you've ever been miles away from a plug socket and felt the horror as your phone, PDA or iPod battery plunges deep into the red, the Proporta Mobile Survival Kit might be the perfect accessory for you.

This compact, shiny white USB-powered mobile device charger stores an impressive 3400 mAh of power, ready for powering up any USB powered mobile gizmo.
To get you started, the Mobile Survival Kit comes usefully pre-charged to 80% full (or 20% empty if you're a Morrissey fan) and includes one USB to Mini USB cable, and a retractable cable compatible with the Nokia, Sony Ericsson and iPod connector heads.
Additional connector adapters are available for other devices, so we were able to hook up our Palm Treo 650 with no probs.
A fully stoked up Proporta Charger should be able to fully recharge mobile devices between three and five times from completely empty – long enough to keep your iPod powering along on even the mightiest journey (according to their web site, even power hogs like the Nokia N95 will gain 3.6 full charges from the charger).
See this page for charging times for other phones.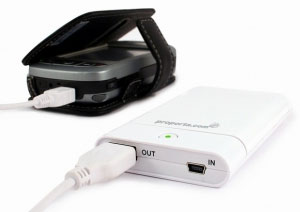 Of course, the charger wouldn't be much use if it was the size of a brick and induced hernias with every step, but Proporta's wee beastie is compact and lightweight enough to take everywhere, with the charger measuring just 100 x 62 x 15mm (3.9 x 2.4 x 0.6 inches) and weighing 120g (4.2 oz).
The unit can be recharged by simply connecting to any available USB port on your desktop/laptop/router, with a LED charge and discharge indicator keeping you informed. Pressing the round button on the front starts the charge process, with the LED glowing green when the device is charging. The light will go out and the current turns off on its own when the battery on the attached device is full.
For frequent travellers, the Proporta is simply full of win, with the extra juice keeping essential long journey distractions like DS Lites, iPODs and mobile phones powering away for the whole trip – without the need to bring along multiple adapters and individual spare batteries.
For just £30, we'd rate this stylish, smart and simple emergency back up power source as a true travel essential. Recommended.
Our verdict
Ease of use: 90%
Build: 88%
Value for money: 80%
Overall: 85%